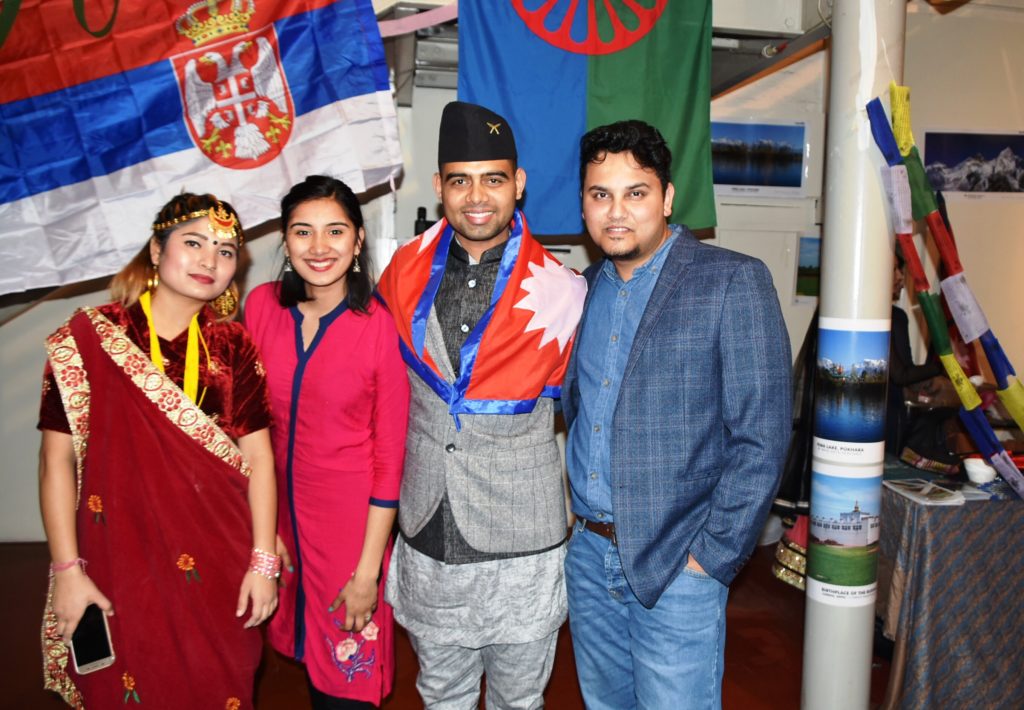 On the 21st of September (UN International Day of Peace), UNAA SA endorsed the second Cultural Night 2018' held at the Tandanya National Aboriginal Cultural Institute.
More than $5,300 in profits were raised from this event, and donated to three charities: the Kurdistan Save the Children Fund (KSCF); Roma World United, and the Children's Welfare Organisation of Nepal (CWON). The conflict in the Kurdistan region of Iraq has devastated a school in the town of Ranya. One-third of the profits raised will help to provide adequate equipment to refurbish this school. Roma World United aims to empower the Romani people (one of the most persecuted ethnic groups in history) with skills-based training workshops, education and basic human rights. CWON works predominantly in the Chitwan region of Southern Nepal with the Chepang people and local non-government organisations to deliver effective grass-roots development through empowerment workshops, access to hygiene facilities and sex education.
The festival attracted more than 380 guests and volunteers who showcased their cultural backgrounds; including traditional clothing, food, music and performances. Overall, the night was a phenomenal success and the largest event hosted. Dignitaries in attendance included the Honorary Nepalese Consul, Dipak Dhamala; the Lady Mayoress of Adelaide, Genevieve Theseira-Haese, and District Governor for Rotary District 9500, David Egan.
The event collaborated with several university cultural clubs for the event, including: The Japanese Language and Cultural Society, The Adelaide University Malaysian Students Association, The Adelaide University Vietnamese Students Association, Adelaide Sri Lankan Students Association, Adelaide University Middle Eastern Staff and Students Association, Omani Students Society of South Australia, University of Adelaide African Student Association, Adelaide University German Club and the Adelaide University Society for Creative Anachronism.
Representation on stalls included: Japan, Malaysia, Vietnam, Afghanistan, Nepal, Sri Lanka, India, Libya, Syria, Iraq, Lebanon, Oman, Italy, Australia, Spain, Germany, South Sudan, Kenya and Medieval Europe. We had a traditional Chinese performance, a Brazilian Samba performance from Dança Brazil Entertainment and Samba, an Indonesian performance from Rindang Saman Adelaide, a traditional Uyghur performance from the Uyghur Language School of South Australia, an Indian Bollywood and kathak performance from the Hreem Dance Company, a Spanish flamenco performance from Sparkling Productions, as well as a traditional Romani performance from one of the event organisers, Sanja Jovanovic from Talent Academy and Candidate for the City of Adelaide.
By showcasing the linguistic and ethnic diversity of Adelaide's multicultural community, the Adelaide University Rotaract Club was successful in achieving intercultural understanding and social cohesion. The main message of the night was that there is 'Unity in Diversity', thus demonstrating the benefits of multiculturalism as the many colourful foods and performances presented on the night would not have been possible without cultural diversity within our community. Communicating to a very high standard, the event was able to organise an overly successful event over the course of a year since the closure of Cultural Night 2017.