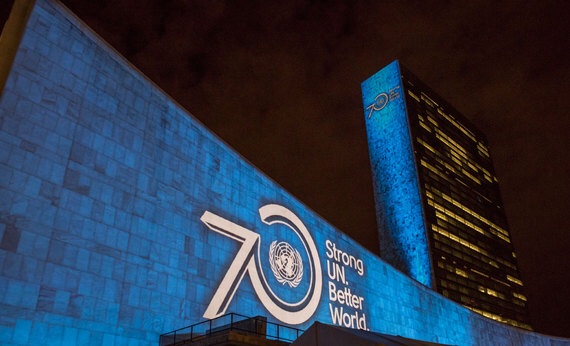 On 24 October 2015, celebrations took place around the world to commemorate
the 70th anniversary of the United Nations. The day marked the anniversary of
the entry into force of the UN Charter. With the ratification of this founding
document by the majority of its signatories, including the five permanent
members of the Security Council, the Organisation officially came into being.
"The timeless values of the UN Charter must remain our guide. Our shared duty
is to unite our strength to serve we the peoples," Secretary-General Ban Ki-
moon said in his message for the day. Mr Ban noted that the UN Charter was for
everyone, particularly the poor, the vulnerable and the marginalised. Recounting his personal experience with the UN when he was growing up in South Korea, Mr Ban said, "When war came to Korea, I lost my home, my school, all I knew. But help came, bearing the United Nations flag."
Acknowledging that the United Nations is far from perfect, the Secretary-General said, "Violence, poverty, ill-health and abuse plague far too many people, especially women and girls" but that without the United Nations, our world would be a far bleaker place. Indeed, as the second Secretary-General of the UN, Dag Hammarskjold famously stated, "The United Nations was not created to bring us to heaven, but in order to save us from hell."
While the 70th year of the UN has provided plenty of opportunity to analyse whether the UN has actually succeeded in this endeavour, it is clear the UN can bring a degree of unity across the globe like no other organisation.
To celebrate the 70th anniversary, some 300 sites around the world lit up in UN blue. From the Great Pyramids of Giza, the statue of Christ the Redeemer in Rio de Janeiro, the Great Wall of China, Russia's Hermitage Museum, and the ancient city of Petra, for one night the world was awash with UN blue.
In Australia, 25 locations, including the Sydney Opera House, the Melbourne Cricket Ground and Canberra's Old Parliament House, were lit up in blue. Uluru
stood out as the only icon to project the UN logo. The event was held with the cooperation of the Anangu people and was the first time an image had been projected onto the rock face. The Anangu people held their own celebration this weekend, marking the 30th anniversary of the return of traditional land, including Uluru and Kata Tjuta.
Foreign Minister Julie Bishop said, "Australia is committed to shaping an effective UN that protects the world's most vulnerable people and brings together nations to address global challenges."
At 70, the UN faces a world beset with severe, concurrent and interconnected crises. The challenges facing the UN at times appear insurmountable. However, it is worth keeping in mind, as Mr Ban noted, while national flags are a mark of pride and patriotism in every country around the world there is only one flag
that belongs to us all.