Amelia Seeto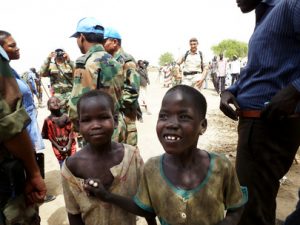 The world is experiencing a series of compounded, prolonged and increasingly conflict-based humanitarian crises. In 2015, over 125 million people required daily emergency food, water and shelter for survival. A record 65.3 million people were displaced by conflict and persecution; a number greater than the combined populations of Australia, New Zealand, and Canada. The United Nations Office for the Coordination of Humanitarian Affairs (UNOCHA) responded to five level-three (the highest scale) natural disaster emergencies following the earthquake in Nepal, Cyclone Pam in Vanuatu and severe El Niño impacts across the globe.
Human suffering for the world's poorest and most vulnerable has reached new heights, and the international humanitarian system designed to help has been stretched to its limits.
It is, therefore, important that the recognition of these concerns is high on the international agenda for 2016. Earlier this year, UN Secretary-General Ban Ki-Moon initiated the first World Humanitarian Summit calling on stakeholders such as heads of state, the private sector and civil society, to come together and recommit to humanity.
The Summit engaged over 9,000 participants from 173 countries. It encouraged vigorous debate and secured important new international commitments. Most notably, the Secretary-General's Agenda for Humanity laid out a framework for the future, based on five core responsibilities. The Agenda for Humanity is a five-point plan that outlines the changes that are needed to alleviate suffering, reduce risk and lessen vulnerability on a global scale.
With World Humanitarian Day being celebrated this week, now is the time to re-examine these five core principles. There should also be a sense of urgency in the international community to fight for these values and seize the opportunity to promote these shared global responsibilities.
Recognising the changing landscape of humanitarian action, the first of these five core responsibilities focuses on improving the effectiveness of political diplomacy and strengthening UN mediation efforts. The aim of this principle is to prevent conflicts from arising in the first place and if they do occur, to encourage peaceful political solutions to resolve them.
The second responsibility concerns upholding the international laws and norms that safeguard humanity. These values and laws have been debased, as demonstrated by the indiscriminate attacks on civilians and aid workers. Last year, 75 Medecins Sans Frontieres hospitals were bombed and according to UNICEF, an average of four schools or hospitals are attacked or occupied by armed groups every day. Reflecting on this, UN Deputy Secretary-General, Jan Eliasson noted the year has, "seen a decay, a lack of respect for international law which is causing enormous damage in the world."
Closely linked to the UN Sustainable Development Goals, the third core responsibility is ambitiously titled 'Leave No One Behind'. It addresses both the short and long-term needs of people caught in humanitarian crises, especially civilians that have been displaced by armed conflict, of which Syria is a prime example. The country slipped backwards on all indicators of the Millennium Development Goals over the period 2000 to 2015, including education. With around four million Syrian children forced out of school, the launch of the Education Cannot Wait Fund aims to address this backwards step by providing quality education to all children in emergencies and protracted humanitarian crises by 2030.
The fourth responsibility shifts focus from merely fulfilling basic needs to ending the need itself by reducing vulnerability risks. With 43% of the world's people already living in fragile environments, this commitment seeks to reinforce domestic systems, and take pre-emptive action to avoid crises. Since humanitarian assistance alone is not a sustainable solution, the Summit recognised the need for shoring up peace-building and development programmes. This gave rise to a number of significant collaborations including the Global Preparedness Partnership, forged between the Vulnerable 20 Group, the UN and the World Bank, as well as the International Red Cross' One Billion Coalition for Resilience, which aims to help countries prepare for and survive future disasters.
The final commitment, 'Invest in Humanity', is also probably the most important. In order to achieve the other core responsibilities, there needs to be adequate, predictable and sustainable financing available. New and unexpected challenges have exhausted cash and material resource reserves and significantly widened the funding gap. In response, the largest ever appeal for financial aid – $20 billion – has been made. Beyond that, emphasis has been placed on more efficient, innovative and locally based activities. The Grand Bargain agreement, for example, will commit to channelling, as directly as possible, 25% of humanitarian financing to national and local responders by 2020.  New partnerships and platforms will also complement existing funds such as the UNOCHA's Central Emergency Response Fund, which allocates approximately $400 million to provide for rapid life-saving assistance at the outbreak of a declared humanitarian crisis.
With these five core responsibilities top of mind, The World Humanitarian Summit gave us an opportunity to wake up and take responsibility for the high level of human suffering in the world. Now as we celebrate World Humanitarian Day on the 19th of August, we can reflect that while international respect for humanitarian principles may have regressed in recent years, the impetus and momentum created by the Summit offers the chance for progress. Let us take the opportunity to recommit to these values and ensure continued progress for the benefit of humanity.
Check out the full Agenda for Humanity here and show your support online this Friday 19 August using #Agenda4Humanity.