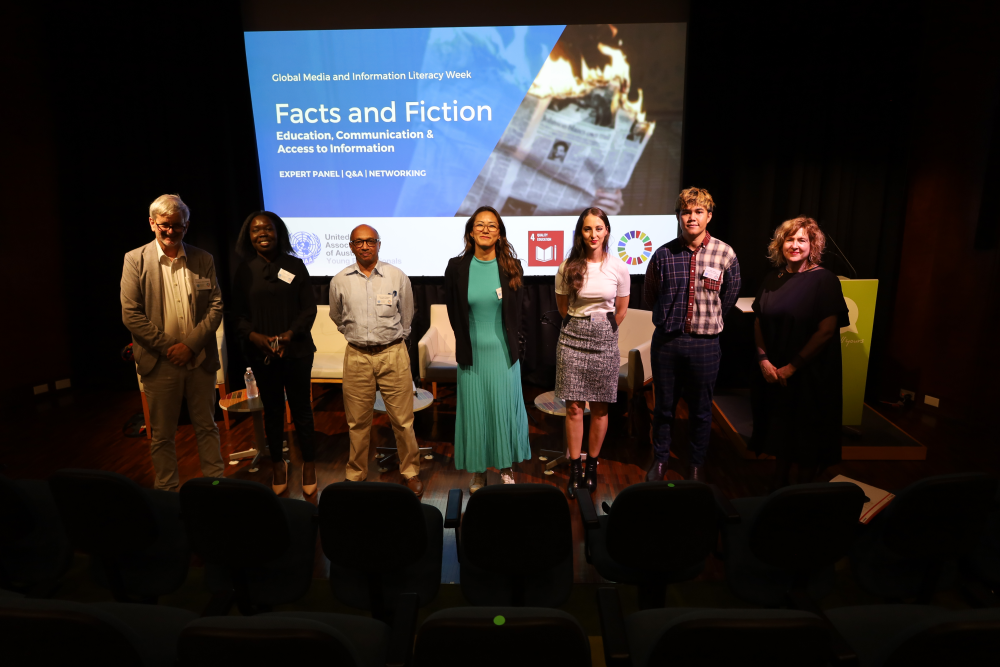 UNAA Young Professionals QLD's event Facts and Fiction: Education, Communication and Access to Information was held on Thursday 21st October at the State Library of Queensland.
The evening was opened by State Librarian Vicki McDonald OAM FALIA, who gave an address on the importance of libraries in achieving the Sustainable Development Goals, as well as her work in advocating for the SDGs relevance and implementation in the library environment.
The insightful panel discussion shed light on current and controversial topics, and was moderated by committee member Ilham Nafian, who is studying a Master of Communication for Social Change and works at Moreton Bay Region Libraries. Professor Mark Pearson from Griffith University addressed the COVID-19 situation around misinformation and disinformation and how important it is to think critically in a world where media sources are becoming increasingly muddled and varied.
Dr. Eun-Ji Amy Kim from Griffith spoke about global citizenship education and what it means to be part of such an important cohort of people. She also shed light on the racial struggles at play since the beginning of the global pandemic – and her involvement in the #iamnotavirus and #stopasianhate movements in Brisbane and Australia.
Grace Edwards from the Refugee Health Network in Queensland also spoke about multicultural resilience during the pandemic, and how access to information and education often came in the form of local storytelling. Grace spoke about the importance of stories in reaching communities far and wide, and how effective it is in sending a message.
Pradip Thomas from the University of Queensland talked about context in education and communication. He talked about how important it is to fully understand the context of a situation when assessing intervention in humanitarian settings and how lack of context often leads to failure in communication – with the communication surrounding the COVID-19 vaccine as a case study.
We were delighted to host an in-person event at such a beautiful venue, and are grateful to State Library Queensland and Vicki McDonald for the generous support.
Thank you to all who attended and connected with our team, we appreciate your support and look forward to seeing you at the next event!