President 
Joel Lindsay
Joel is the Queensland Committee President and has been with UNYPQ since 2016. Having completed a Masters of International Relations and studies overseas, Joel joined the Committee to continue learning and advocating for climate change action and the integral role of peace in security.  Joel is passionate about increasing awareness of the work of the UN here in Australia and advocating for global human rights.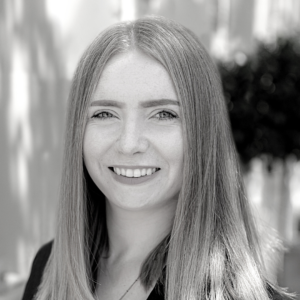 Secretary
Tetiana Kontsedaylo

Tetiana joined the UNYPQ in 2018 as a committee secretary to give back to the community and help educate young people about the Sustainable Development Goals. She recently graduated from Griffith University with a Master in International Relations. Previously, she completed a Bachelor's degree in teaching French, English, and Literature. She is passionate about public policy, international security, international development, and children's rights. Outside of her professional interests, Tetiana is an avid reader, an amateur photographer, and a podcast connoisseur. 
Treasurer
Shannon Tumataroa

Shannon has been part of UNYPQ since 2018. Stemming from a passion for community development, Shannon has a PhD in psychology, researching the effect of financial hardship on household decision-making. She currently works at The University of Queensland specialising in attaining grant funding for medical research. Shannon joined UNYP to help raise the profile of the crucial role the UN plays in global sustainable development, and brings an indigenous, New Zealand Māori perspective to the team.
Operations Manager
Kumi Milliken
Kumi's interest in the humanitarian sector inspired her to complete a Master of Development Practice, specialising in the Politics of Global Development, from the University of Queensland. She is a passionate social justice advocate, and is particularly interested in examining the gendered impacts of development initiatives in the contemporary context. Kumi has experience working in the non-profit sector with international organisations in Harare (Zimbabwe), New York (USA) and Brisbane (Australia), focused on humanitarian, environmental and international development affairs. Kumi joined the committee in 2018 to help raise the profile regarding the work, goals and values of the UN in order to strive for a more inclusive, resilient and sustainable future for all.
Events Manager
Sarah Smale
Sarah grew up in Portugal, studied Law in the UK, then moved to Australia and studied International Relations. She volunteered with Amnesty International and the UNHCR, and taught in Morocco and Nepal. She volunteered with RAILS, Queensland Advocacy Incorporated and the Women's Legal Service, and is currently working for the Queensland Government. She participates in her local refugee support group, and joined UNAA in 2020 due to her passion for human rights, in particular women's rights and issues relating to immigration, refugees and asylum seekers.
Events Assistant
Ishara Saham
Ishara is a passionate social and gender justice advocate, community organizer and education facilitator. She currently works in the NFP/social enterprise space, providing strategic thinking and project management support. Ishara has particular interest in ensuring that culturally and linguistically diverse, First Nation and gender-fluid groups are recognized and included in civic decision-making processes pertaining to social and urban development. She joined the UNYP team in 2020 to educate on and take action on social change, civil rights injustices and climate action with an intersectional lens.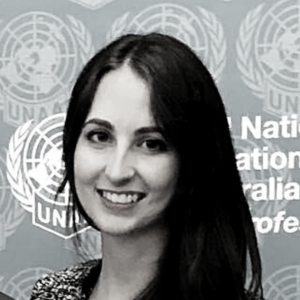 Communications Manager
Natalie Coleman
Natalie joined the UNYPQ team in 2017 and is passionate about creating opportunities for people to connect and be inspired by each other, building community and sharing knowledge, generating effective action towards the protection of human rights and our shared home. She has worked across a wide range of sectors in communication, marketing, event management and stakeholder engagement, and is currently studying a Master of International Relations.
Social Media
Ritva Vilppola
Ritva is a strong advocate for ensuring all individuals recognise the significant impact we each bring to our communities, whether it's with our families or home away from home. Ritva moved to Brisbane in 2017 where she brought her experiences from New Zealand into her role as a Sustainability Consultant at WSP, a global engineering consultancy, while volunteering for the local Engineers Without Borders QLD chapter. Ritva joined the UNYPQ team in 2020, bringing her experiences to help the team share how we can all contribute to the SDGs towards a safer future for all.
Social Media
Erika Menezes
Erika joined UNYPQ in 2019 as a Social Media Officer to assist the Comms team promote the work of the United Nations and the UNYP within the community. Erika has a background in community engagement, volunteering, and communications; and has a special interest in international development and diplomacy. Erika's passion for human rights, advocacy and storytelling led her to complete a Bachelor of Laws and a Bachelor of Arts with a double arts major in Literature & Creative Writing and History & Cultural Heritage. Erika has merged these interests in her role as a Humanitarian Affairs Peace Ambassador in her current peace project. Erika has previously worked for Google, Queensland State Government, RedHat, Maastricht University, and Griffith University. 
Blog Editor
Cameron Gordon
Cameron joined the committee in 2017, and is also acting as Treasurer for UNAA Queensland.  Cameron holds a Bachelor of Economics (Hons), and Bachelor of Arts (Japanese and French) and is now studying a Master of Science (Mathematics). He experience includes working in the Queensland public service on projects including developing financial provisioning legislation for mining rehabilitation, evaluating large infrastructure developments, and conducting project evaluations for regional and industry investment funds. His interests include development challenges in the Asia-Pacific and the role of new technology, data, and connectivity in advancing the SDGs.
Committee Member
Elizabeth George
Elizabeth is a clinical pharmacist working in the Intensive Care Unit at Alice Springs Hospital. Prior to moving to the Red Centre, Elizabeth was working in one of the major tertiary hospitals in Brisbane and lecturing at Griffith University School of Medicine. She is passionate about global health, health education and ensuring access to health care, especially for vulnerable populations including our remote Aboriginal communities as well as overseas. Elizabeth has volunteered in Bangladesh and the Solomon Islands alongside completing her Master of Global Health at the University of Sydney. It was through her interest in health and love of travel that Elizabeth became interested in the work of the UN and involved with the UNYP QLD committee in 2018.