Facts and Fiction: Education, Communication and Access to Information
October 21, 2021 @ 5:30 pm

-

7:30 pm

$5 – $15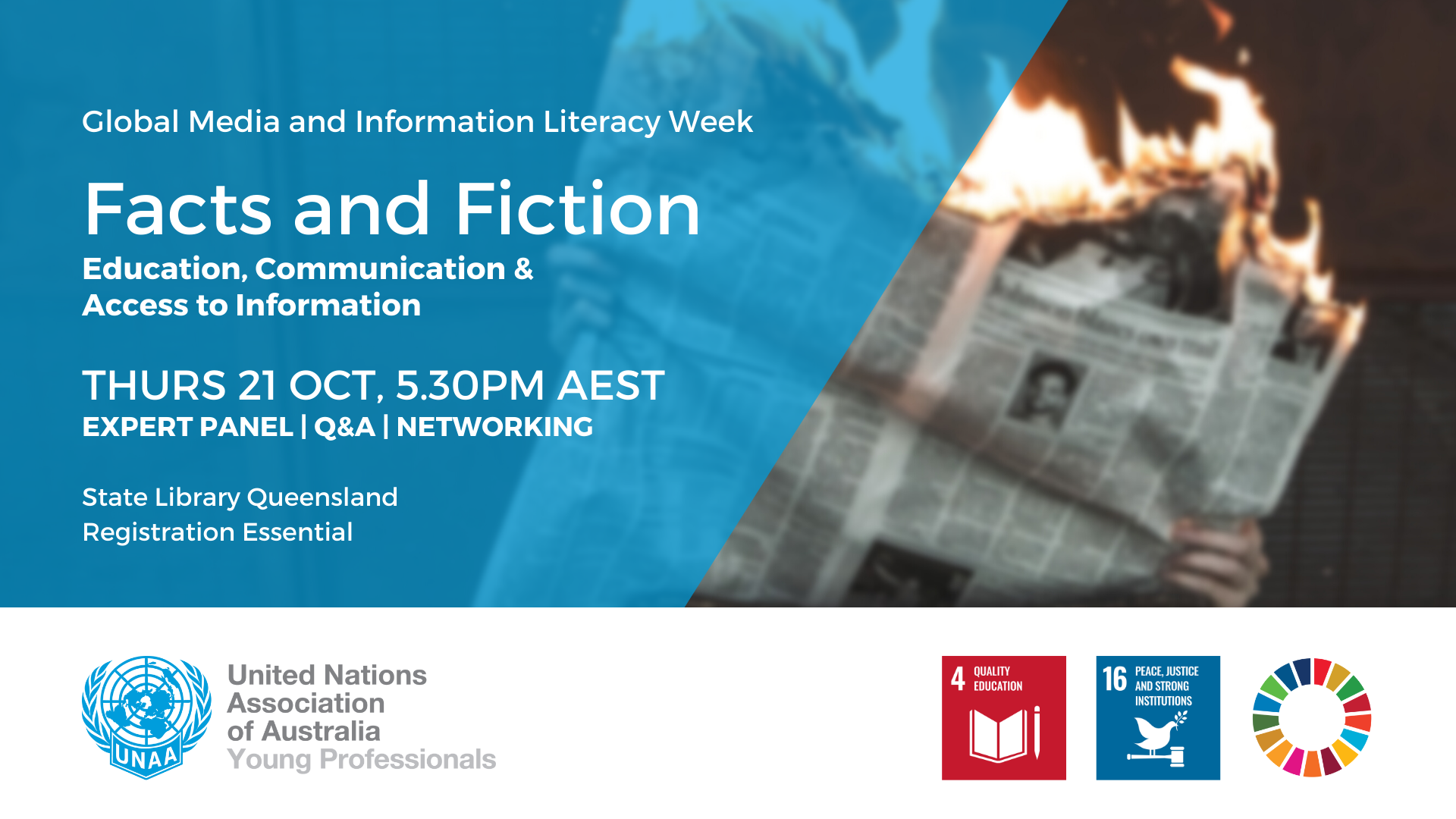 EXPERT PANEL | Q&A | NETWORKING
Part 1: Expert panel + Q&A
Part 2: Supper and networking on the State Library Queensland Terrace
Join us at State Library Queensland for an evening of connection and conversation ahead of UNESCO's Global Media and Information Literacy week.
COVID-19 has highlighted the need for a wholistic approach to achieving media and information literacy for all. As global citizens, our collective competency to think critically and contribute carefully really matters – particularly in a landscape of increasing disinformation and political polarisation.
We'll explore the role of education and curriculum, the responsibilities of communication, journalism and the media, and the critical importance of public information resources, spaces and services, such as libraries, in reducing vulnerability.
Hear our panel of experts discuss their experience and research in the Australian context and abroad, and come with your questions for a dynamic Q&A.
We'll then continue the conversation on the State Library Terrace, with light refreshments included!
Don't miss out – Tickets available now.
$10 Members- UNAAQ and UNAA Young Professionals
$15 General Admission
$25 Bring a friend and save! (Price includes two General Admission tickets)
$5 Equity Ticket – We don't want anyone missing out because of price! If cost is at all a concern, please select this ticket type – no questions asked. We look forward to seeing you!
KEY EVENT INFO:
Venue: Auditorium 2, State Library Queensland
Light refreshments provided
Dress code is business casual
Registration essential
Please do not attend if you have COVID-19 symptoms.Stay at home if you feel unwell or have a cough, fever, sore throat, fatigue or shortness of breath. Attendees are responsible for maintaining physical distancing (including when entering and exiting the event). If you do become unwell during the event, please seek assistance from a member of the UNAA Young Professionals QLD team. If you cannot attend the event because you are unwell, you will receive a full refund on your ticket.
————————————————————————————————-
As always, we at the UNAA respectfully acknowledge that this event will be hosted on the land of the Turrbal and Yuggera peoples. We pay our respects to Elders past, present and emerging, and fully commit to working together now and in the future.

*NB: This event will comply with Queensland Government guidelines. Should restrictions impact our ability to host this event in person, refunds will be made available*