Moving Forward In A Diverse Community
October 27, 2021 @ 5:30 pm

-

8:00 pm

$20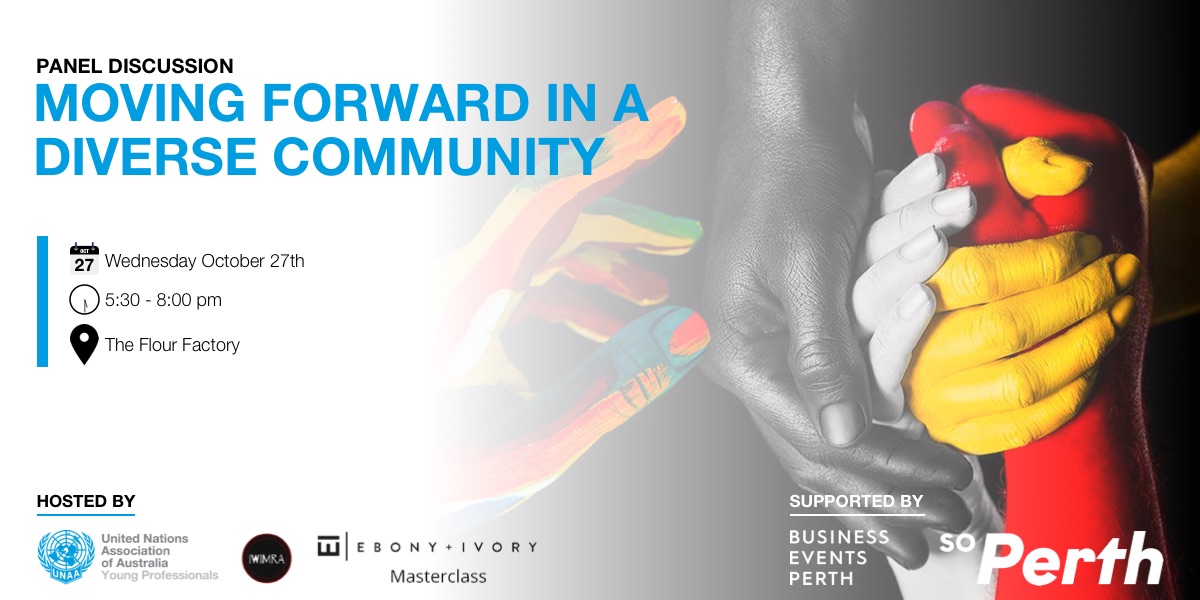 Join us for a panel discussion to discuss and address Diversity, Equity, & Inclusion and give young professionals actionable advice to build a better system.
About this event
"The System Isn't Broken. It Was Built This Way" – Grace Forrest
We've all been to workshops and panel discussions with corporate leaders and heard the same spiel around D, E & I – "we're listening to our people and improving our community engagement to provide better opportunities for minority groups." But, how? What is it really like on the ground? What challenges are you facing? What have you tried? What's working? What's not?
The next generation of leaders is incomparable to those of the past – the way we work, the way we view the world, the importance we place on value-driven organisations, working with our purpose and hyperfocusing on environmental and social sustainability.
We are in a unique position to harness the learnings from current leaders, which are more accessible now than they ever have been. But how do we take these learnings and create systemic change to build a more equitable and inclusive society, not just in our professional lives but across the board?
To ambitiously change our narrative and improve the capability of our future leaders, we need to influence one another to continue to build our leadership character (and capability) by listening, observing and making informed decisions together.
This event will create dialogue between stakeholders of the future – emerging leaders for the Young Professionals space and minority groups of our thriving communities, and provide a safe forum for learning, speaking our truths and addressing the fundamental flaws in our system.
We want to address some of the fundamental questions of:
– How do we assess D, E & I in the workplace? How do we actually address it? What can I do, in my role?
– How do we reflect on residual behaviours that will continue to shape our teams into the future?
– How do we empower each other to make small changes in our own sphere of influence?
Join us for this panel discussion, where our speakers will discuss and address (yes, really!) this topic and give young professionals actionable advice and tools to build a better system.
Tickets include canapes and a grazing table.
This event is a collaboration between the United Nations Association of Australia Young Professionals, Indigenous Women in Mining and Resources Australia, and Ebony & Ivory Masterclass and will be moderated by Rhiannon Compton.
All proceeds from this event will be donated to MSWA through the Central Park Plunge initiative.
Event Sponsors:
Thanks to Business Events Perth and So Perth for supporting this event.