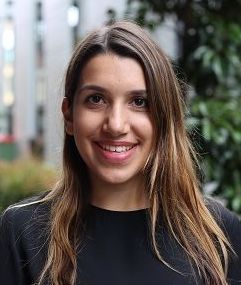 Jane Aslanidis
Jane Aslanidis is the Senior Manager at the Boston Consulting Group's Centre for Public Impact with an international remit, based in London.
Jane previously worked with the UN World Food Programme and prior to this was involved with the UNAA Young Professionals Network in Sydney. Jane started her career at PwC Australia and holds a Master of International Relations from UNSW Sydney. Outside of work, Jane contributes to inclusive and equitable education through mentoring and not-for-profit board directorships.

What sparked your interest in the United Nations?
When I was in school, the UN was mentioned during a film in French class. This sparked my curiosity and commitment to a multifaceted career. I am fascinated by the human experience. My interest in the UN has led me to understand that history can provide perspective on this. Those who don't learn from history are doomed to repeat it. At the same time, digital innovation, diplomacy and people-to-people links are invaluable threads that connect the world.
Have you always wanted to work in sustainability?
Yes, I think growing up in Australia gives you a unique appreciation of nature and its powerful force – from the ocean to the rainforest, reefs, the desert and more. Australia has it all. In saying this, I quickly learnt that to make real progress in sustainability, you have to advocate that the environment and the economy are two sides of the same coin.
What opportunity or event helped grow or develop your career?
Two opportunities helped develop my career. First, working with the UNAA Young Professionals introduced me to an extraordinary group of people who had an international mindset and commitment to education and empowering young people. To this day, that cohort are valued allies in my professional and personal life. Second, when I first entered the UN system, I had a mentor help me navigate and they've looked out for me ever since. If you are looking to enter the UN, getting empowered with the right knowledge and information is crucial for your successful contribution to a complex system of state and non-state actors.
How did you come to work with the UN World Food Programme (WFP) and can you tell us a bit about the role and what it was like?
The World Food Programme is a unique agency in the UN as an organisation known for its 'doers who get the job done'. The logistics cluster is a prime example of this – responding quickly to humanitarian crises. This is no longer limited to saving lives in war-torn countries and after natural disasters or devastating explosions like in Beirut recently. It has expanded its remit to changing lives – where nutritious food and climate resilience shapes WFP's interactions – supporting children to attend school, smallholder farmers and female community leaders to name a few.
I was an International Consultant at WFP based in Rome, Italy. I was speechwriting and policymaking with heads of state on food security and logistics matters from every corner of the globe. My team of 20 came from 20 different countries, over 20 languages spoken. And funnily, good Italian food and sports (mainly football and cricket) brought us together. What I learnt through my experiences at WFP is that it's in the art of finding the real problem, and defining its story, that visions succeed. At the same time, making decisions based on a strong value set, not just a data set, and being self aware enough to share my own values when developing a team, is so important.
In what ways do you think COVID-19 has impacted the Sustainable Development Goals which focus on climate and sustainability?
The global pandemic has seen a surge in wartime-inspired rhetoric that is resonating today — with the Queen's coronavirus broadcast being likened to speeches made during World War II. What we have learnt from rebuilding post-war is the importance of local engagement, job creation and laying the foundations for economic growth together with social, cultural and political stability. Rebuilding post-COVID requires climate change and sustainability to have an elevated importance and to be regarded with a sense of urgency in society. We should lead with optimism to guide the future we choose, not with despondency.
The Sustainable Development Goals are distinct and interrelated. They are all important goals. The public health and emergency responses to COVID-19 is critical for all human life in 2020. I am optimistic that the kindness and compassion I've seen in the face of this crisis will serve us all to have a positive impact on the natural world in the decade ahead.
What are your hopes for the future?
I hope that empathy and kindness resonate more than fear. Where a diverse, equitable and inclusive community is valued. I hope that the environment is granted the same level of importance as profit. First for senior leaders and then for every one of us. Finally, I hope that we will soon reunite with loved ones who we can only see through Zoom right now. We'll meet again.
How do you see the role of the UN in the future, now in its 75th year and how do you see Australia's role?
Reimagining a UN that is fit for the future and works for everyone is a complex task. Australia is a valued voice – an advanced economy with a strategic position in the Indo Pacific. We're also a friend to so many cultures that are different to our own. I hope Australia's role in the next 75 years of the UN is one of a convener, bringing state and non-state actors around the same decision-making table and putting multilateral policy in place together. I see Australia reshaping the global economy after the crisis by putting people first.