In September 2015, world leaders committed to 17 Sustainable Development Goals (SDGs) to achieve 3 remarkable objectives by 2030: End extreme poverty. Create equal and just society for all. Fix climate change.
With only a decade left to achieve the SDGs, UNAA NSW called on all artists and creatives worldwide to make the #GlobalGoals their own and participate in our #Creativity4SDGs Challenge.
We asked you to discover the SDGs on sustainabledevelopment.un.org and create artwork, a dance routine, or any other creative piece inspired by one, two or all the SDGs. 
The artworks were judged based on several categories: Under 18's, Uniqueness, Technical Skill, Relatedness to the SDG, Passion, and Impact.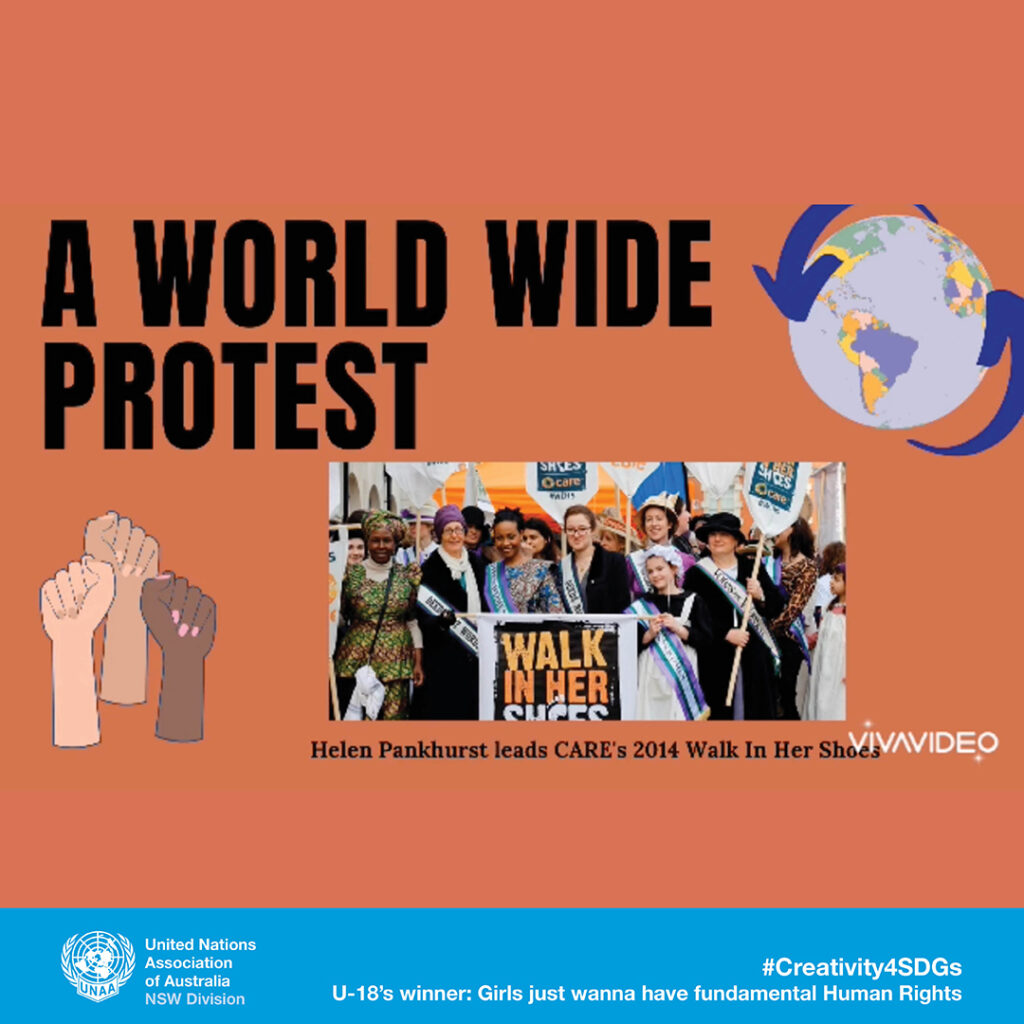 Under 18's
Winner Name
: Philippa Stafferton                
Artwork: Girls just wanna have fundamental Human Rights
Description by artist: "I made this video because I believe that even though we can celebrate our small progresses throughout the world, gender inequality is still a big problem in today's society. I believe that if we all worked together we could make an enormous change."
SDG: 5 GENDER EQUALITY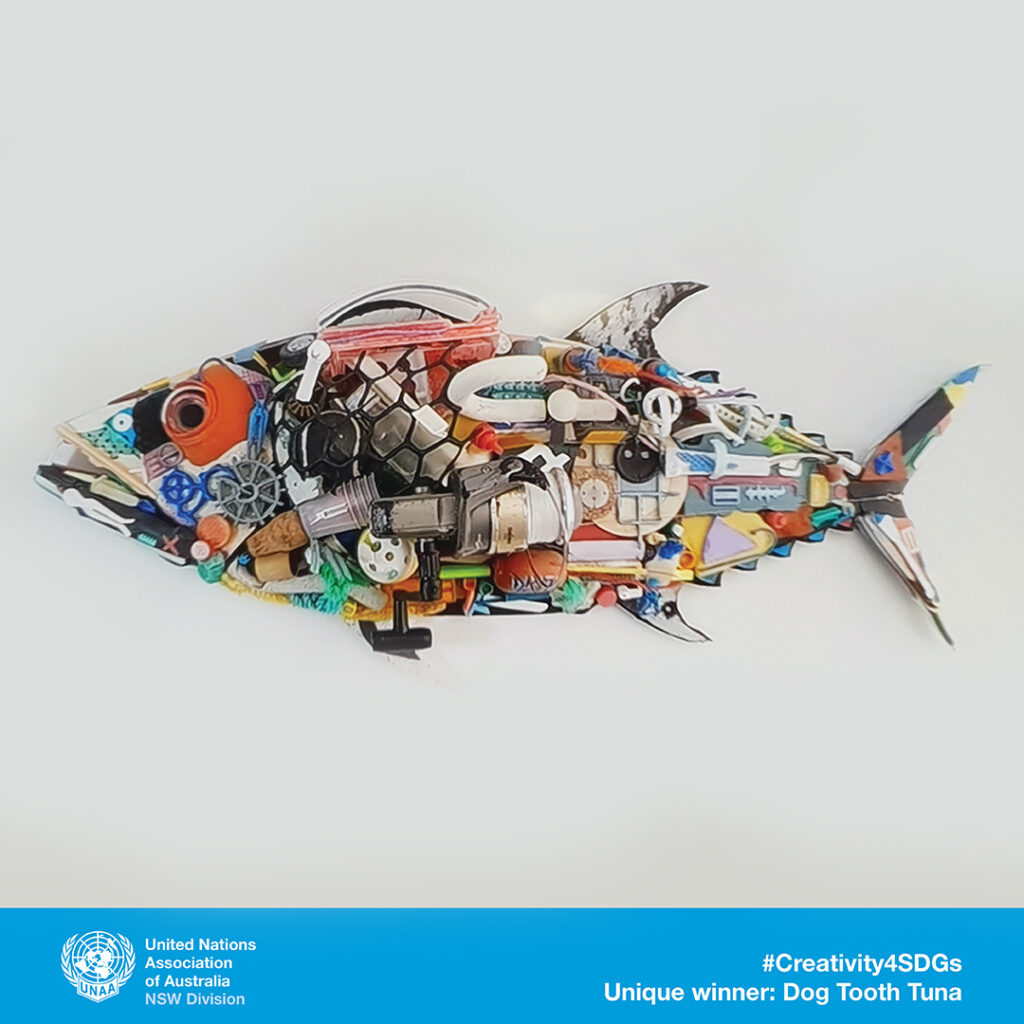 Most unique
Winner Name
: David Day          
Artwork: Dog Tooth Tuna – sculpted in plastic
Description by artist: "I use marine debris to create awareness of the oceans plastics problem/the effects it has on all marine creatures, declining species that affects all of us"
SDG: 12 – RESPONSIBLE CONSUMPTION & PRODUCTION
SDG: 14 – LIFE BELOW WATER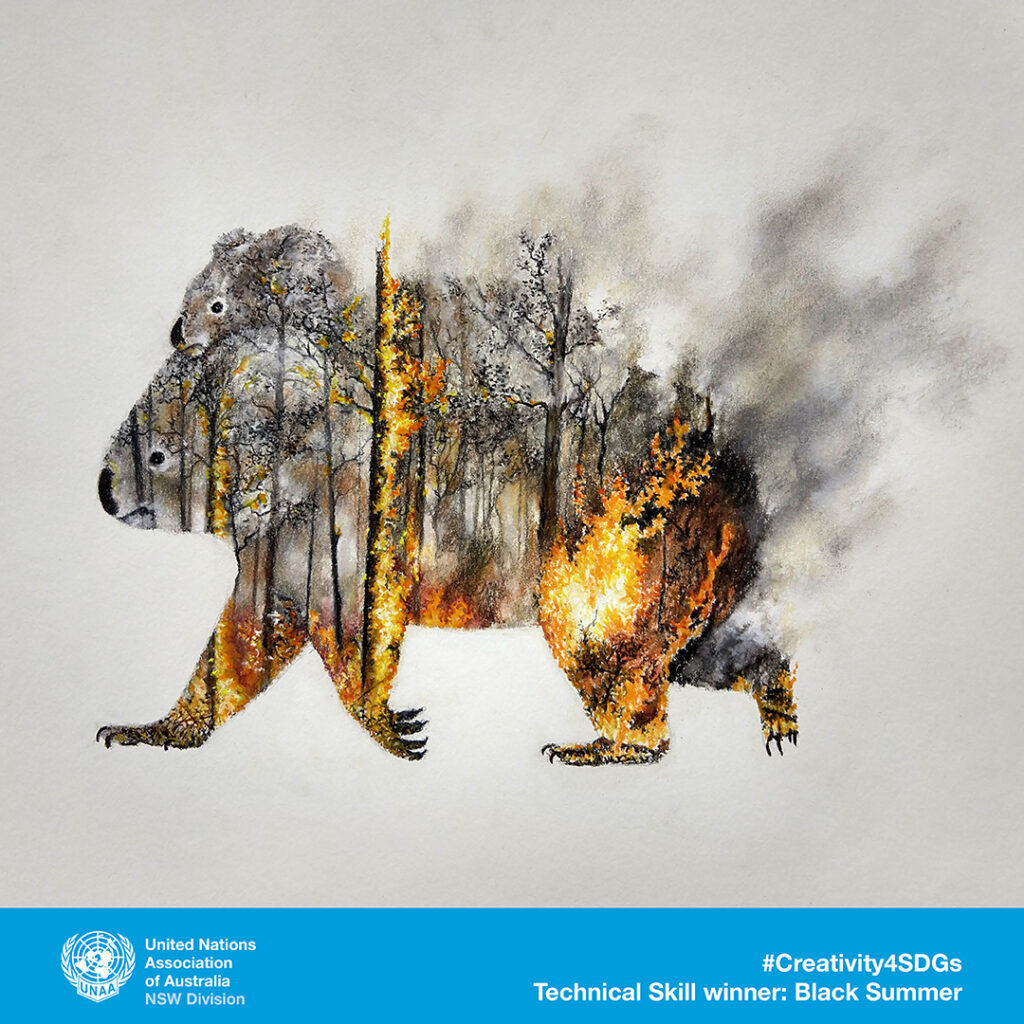 Technical Skill
Winner Name
:

Naomi Van Leeuwen
Artwork: Black Summer – pastels on paper
Description by artist: "Prolonged drought, climate change, land-clearing, and now the Black Summer fires have reduced Koala populations by two thirds, and huge areas of their habitat have been destroyed. Will we protect the remaining third?"
SDG: 15: LIFE ON LAND
SDG: 14 – LIFE BELOW WATER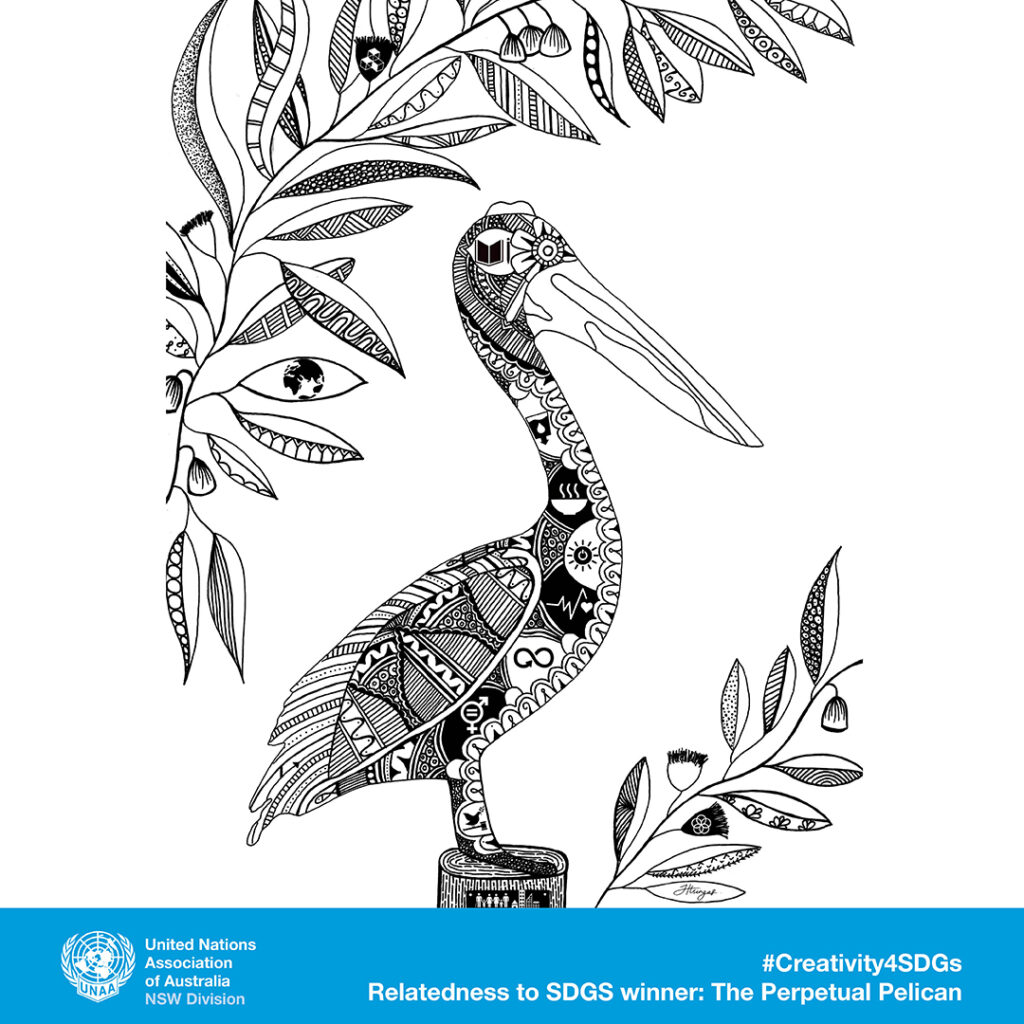 Relatedness to SDGs
Winner Name
: 
Hristina Tsingas
Artwork: The Perpetual Pelican
Medium:
Hand drawn using fine liner and digital edited on affinity designer
Description by artist: "The United Nations states that "oceans are the lungs of the earth" which strengthens the symbol of the pelican as a representation of eternal sustainability and environmental prosperity. The Sustainable Development Goals symbols are incorporated in this original artwork."
SDG: 14 – LIFE BELOW WATER
SDG: 15 – LIFE ON LAND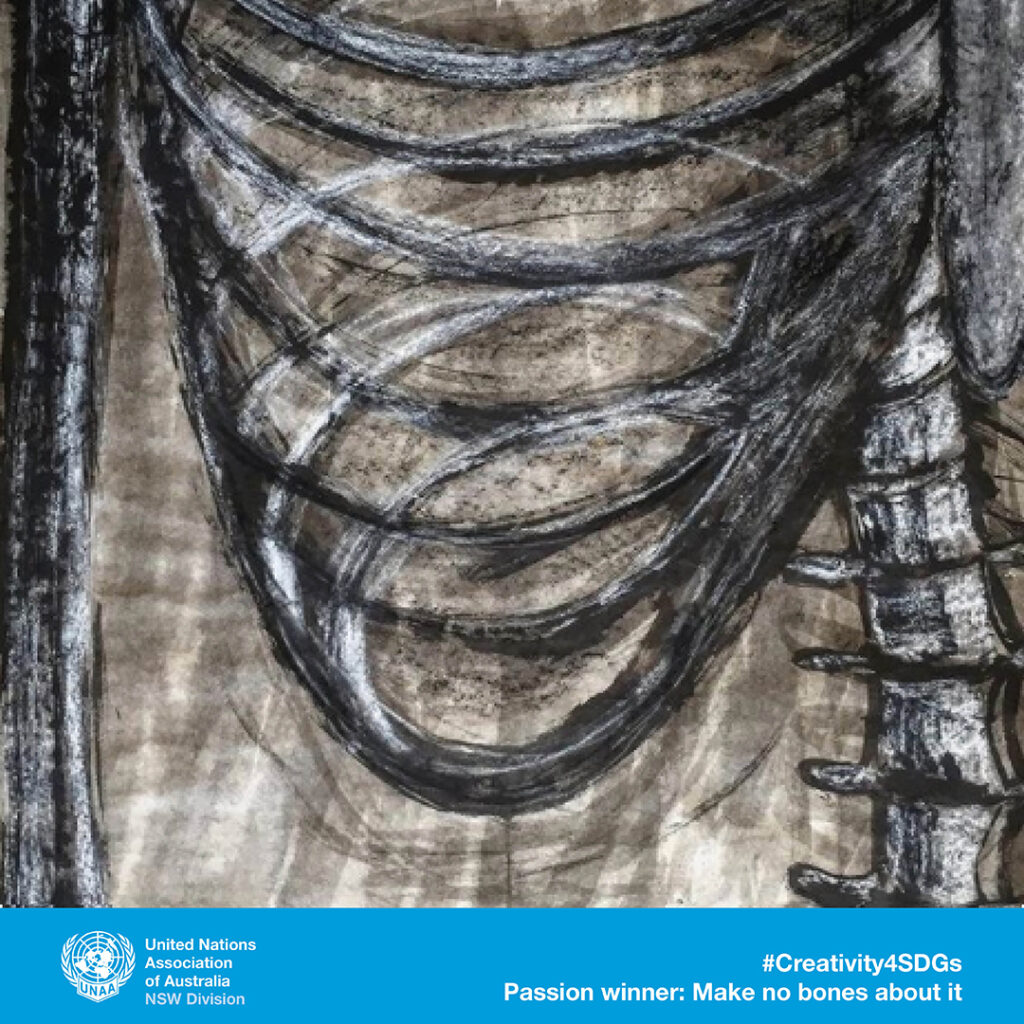 Passion
Winner Name
: Cecilia Warrick Bell
Artwork: Make no Bones About it – Drawing
Description by artist: "Inspired by the need to eradicate hunger and poverty, specifically by the UN Sustainable Development Goals of Zero Hunger, Health & Well-being, and No Poverty.
The expression 'to make no bones about' something means saying clearly what you think or feel about something, however unpleasant it is. My art alludes to the emptiness felt when confronted by the stark reality of hunger and poverty in the world, such as images of starving children. In addition the skeletal structure is a reminder that we are all alike, on the inside."
SDG: 1 – NO POVERTY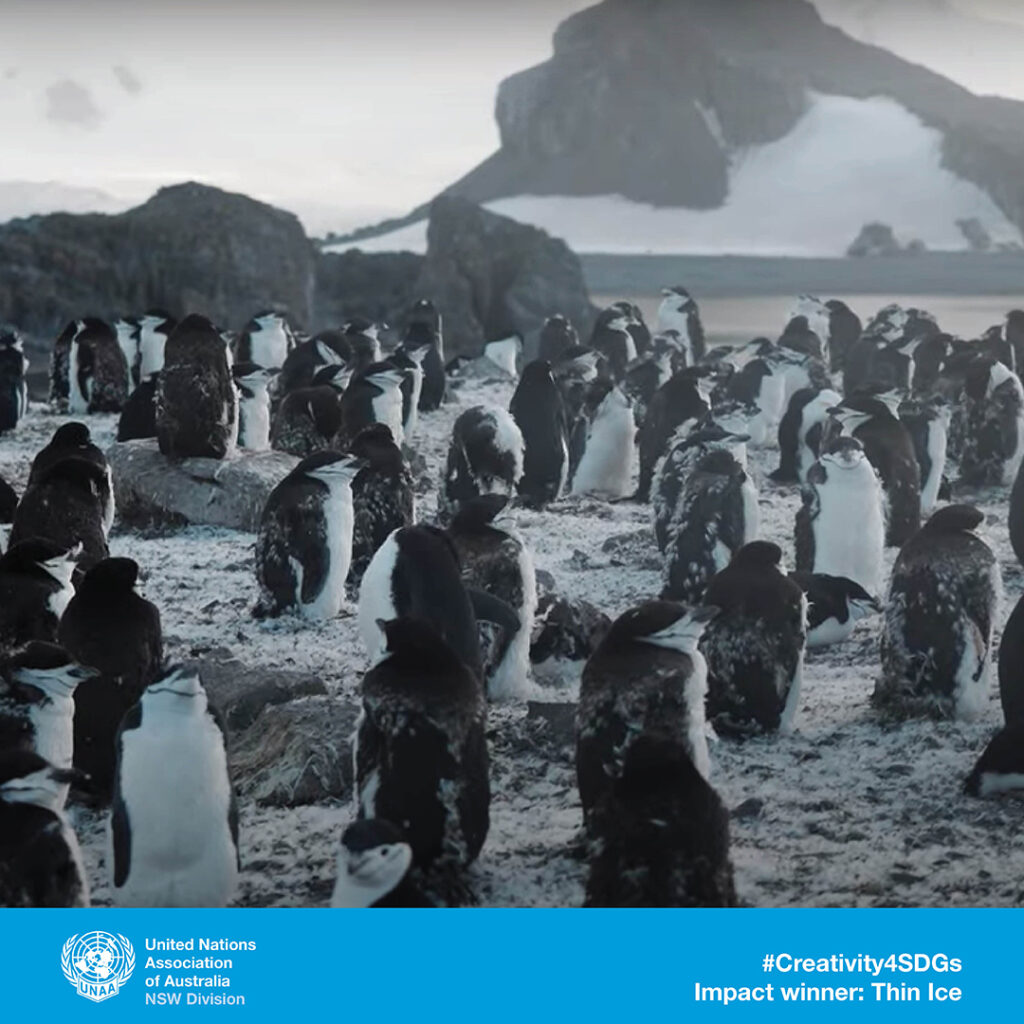 Impact
Winner Name
: Peter Gray
Artwork:

Antarctica: Thin Ice' Video Antarctica: Thin Ice' Video
Description by artist: "In March I was fortunate to travel to the Antarctic Peninsula to explore one of the most unique, fragile and protected environments in the world. From the declining numbers of wildlife and marine life to retreating glaciers, climate change is occuring at an unprecedented rate. This video seeks to highlight Sustainable Development Goal (SDG) 13: Climate Action and the very real threat our changing climate is having on Antarctica, where the impact is at its greatest. I hope this also provides an insight into how locations as remote and geographically distant as Antarctica can inform our attitudes and decision making to take action against climate change in Australia."
SDG: 13 – CLIMATE ACTION
SDG: 14 – LIFE BELOW WATER