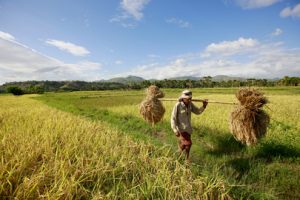 The U.N. Food and Agriculture Organisation has unveiled guidelines to help Governments balance the needs of increased food production and climate change adaptation. The new guidelines aim to support developing countries in making sure that the agriculture sector is both included in national climate change adaptation plans and made more resilient and sustainable.
"The agriculture sectors, often the economic backbone of developing countries, need to be a key driver and stakeholder [in addressing climate change]. The guidelines are set out to address the key issues, entry points and steps to take," said Julia Wolf, UN Food and Agricultural Organization (FAO) Natural Resources Officer and co-author of the guidelines. "Medium to long-term adaptation planning is crucial to build climate resilience and food security for future generations."
There is a strong and reinforcing link between agriculture and climate change. Crop and livestock production are significant drivers of climate change, being major contributors of greenhouse gas emissions. Total emissions from agriculture, forestry and fishing sectors have doubled over the last 50 years and could increase an additional 30 percent by 2050 without greater efforts to reduce them. Climate change affects agriculture in a number of ways, including through changes in temperature and rainfall, increased climate extremes such as flood and drought, changes in growing seasons and increased risks of pest and disease outbreak, all of which pose serious threats to future global food security.
It is clear that in order to achieve the United Nation's sustainable development goal to "end hunger, achieve food security and improved nutrition, and promote sustainable agriculture" by 2030, enhanced action to reduce climate change impacts on food security and nutrition is required. Through the development of more sustainable and resilient agricultural practices around the globe, the agricultural sector has large potential to mitigate and adapt to climate change. FAO's work on climate change highlights the need for "a paradigm shift towards agriculture and food systems that are more resilient, more productive, and more sustainable," to ensure food security for a growing global population.
The new guidelines are aimed at national planners, agriculture, forestry and fisheries authorities and experts, and are expected to help countries achieve the climate pledges made in December 2015 when the Paris Climate Accord was agreed to in France.