"Every minute 20 people leave everything behind to escape war, persecution or terror".
This is the message the United Nations spread on June 20, World Refugee Day in which UN Secretary-General António Guterres urged the governments of the world to work together to help ease the continuing refugee crisis.
World Refugee Day is based on the 1951 Refugee Convention, which highlights the unalienable rights that refugees hold. According to the 1951 Refugee Convention, these include "the right not to be punished for illegal entry into the territory of a contracting state, the right not to be expelled except under certain strictly defined conditions, and the right to education". According to the UNHCR, at the end of 2016, there were 65.6 million people globally who were displaced forcibly. On the current refugee crisis, UN Secretary-General António Guterres stated, "while Syria remains the world's largest source of refugees, South Sudan is the biggest and fastest growing new displacement emergency, with 1.4 million refugees and 1.9 million internally displaced, the vast majority of them under 18".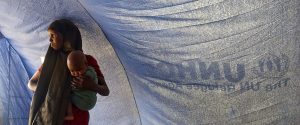 To mark World Refugee Day, Australian Foreign Minister Julie Bishop announced a package worth over AU$15 million aimed at assisting Afghani refugees. This package will support the 3.3 million displaced Afghanis to return to their home towns and cities in Afghanistan. An additional AU$1 million has also been pledged to provide food and supplied to those displaced by the conflict currently occurring in Marawi City, Philippines.
However, while welcoming and acknowledging the good work that many countries are doing in accepting refugees and helping with the crisis, António Guterres, who was the UN High Commissioner for Refugees for a decade before replacing Ban Ki-moon as Secretary-General, criticised many nations for their efforts to stop refugees from entering their countries. In his statement, Mr Guterres stated, "we are still witnessing many remarkable examples of solidarity in today's world. But at the same time, we are seeing more and more borders being closed, we are seeing more and more refugees being rejected and, namely in countries of the developed world". He also argued for the necessity of migration, adding, "if something is necessary, it's better to control it and to do it regularly than to let smugglers and traffickers be in charge of these movements".
During this time, UNHCR special envoy Angelina Jolie travelled to Kenya, a country which receives many refugees fleeing from South Sudan, the Democratic Republic of the Congo, Somalia, Burundi and Rwanda. In Kenya, Jolie visited a safe house for girls who have fled conflict after being the victim of sexual and gender-based violence. The 20 girls in the safe house, all from the countries listed above, are just a small sample of the almost 500,000 refugees that Kenya is currently housing, over 100,000 of which are from South Sudan.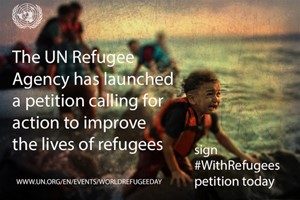 The UN also used World Refugee Day to launch a global petition aimed at sending a message to governments that refugees deserve better treatment. Specifically, the petition urges that every refugee child gets an education, every refugee family has somewhere safe to live, and every refugee can work or learn new skills to make a positive contribution to their community. To sign the UN's petition, please click here.