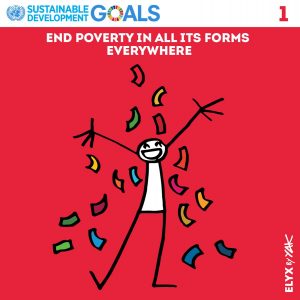 'Ending poverty in all its forms', one of the UN's key Sustainable Development Goals is an ambitious task. We've broken down some key stats on how this can be achieved and what you can do to help!
What's the goal?
By 2030, eradicate extreme poverty for all people everywhere, currently measured as people living on less than $1.25 a day.
By 2030, reduce at least by half the proportion of men, women, and children of all ages living in poverty in all its dimensions according to national definitions.
Implement nationally appropriate social protection systems and measures for all, including floors, and by 2030 achieve substantial coverage of the poor and the vulnerable.
By 2030, ensure that all men and women, in particular, the poor and the vulnerable, have equal rights to economic resources, as well as access to basic services, ownership and control over land and other forms of property, inheritance, natural resources, appropriate new technology and financial services, including microfinance.
By 2030, build the resilience of the poor and those in vulnerable situations and reduce their exposure and vulnerability to climate-related extreme events and other economic, social and environmental shocks and disasters.
Ensure significant mobilization of resources from a variety of sources, including through enhanced development cooperation, in order to provide adequate and predictable means for developing countries, in particular, least developed countries, to implement programs and policies to end poverty in all its dimensions.
Create sound policy frameworks at the national, regional and international levels, based on pro-poor and gender-sensitive development strategies, to support accelerated investment in poverty eradication actions.
Why should I care?
More than 700 million people are still living in extreme poverty and struggle to meet the basic living needs like health, education, and sanitation. The overwhelming majority live on less than $1.90 a day and are concentrated mainly in southern Asia and sub-Saharan Africa and account for nearly 70% of the global total of extreme poverty. This issue does however also affect developed countries, with 30 million children growing up poor in the world's richest countries.
What can I do?
Active engagement in policy making and making sure your voice is heard.
Governments can help create an enabling environment to generate productive employment and job opportunities for the poor and the marginalized. They can formulate strategies and fiscal policies that stimulate pro-poor growth, and reduce poverty.
The private sector, as an engine of economic growth, has a major role to play in determining whether the growth it creates is inclusive and hence contributes to poverty reduction.
The academic and education community has a major role in increasing the awareness about the impact of poverty. Science provides the foundation for new and sustainable approaches, solutions and technologies to tackle the challenges of reducing poverty and achieving sustainable development.
To find out more about Goal #1 and other Sustainable Development Goals visit:
http://www.un.org/sustainabledevelopment