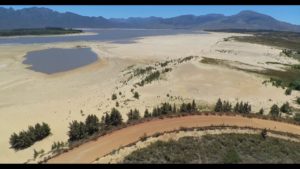 After three years of drought, the South African coastal city of Cape Town is running out of water, with sufficient supply expected to run out in early May. For decades, Cape Town's population of 4 million has relied on the Theewaterskloof Dam for over 50% of its water supply. However, with the dam running dry, experts have been predicting when the city's water supply will be disconnected. The date currently, at the time of writing, sits on May 11, 2018, however, this has been revised numerous times already, so there is still uncertainty surrounding this date.
Rainfall in the city has been far below average levels since 2015, leading to what has been called a 'once-in-a-millennium' drought. This drought has only confounded the city's water issues, in which some blame is placed on the Cape Town city council who have failed to prepare the city for such a situation. Since 1995, the city council has increased the city's water storage capacities by 15%, which is in vast contrast to the city's population growth, in which the populace has increased by 79% over the same period of time.
Currently, residents and visitors of Cape Town are being urged to limit their water usage to 50 litres per day. 50 litres is very little when considering that a five-minute shower uses approximately 80 litres of water. Freshwater sources are now being policed 24-7 as a means of stopping water theft. Once the city's water supply is cut off, people will be forced to visit 'water collection centres' on a daily basis.
The United Nations has voiced its concern on the matter and has stated that the continued effects of climate change will lead to many more issues of this nature. In fact, the United Nations World Water Development Report showed that by 2030, if current trends were to continue, the global demand for water will exceed supply by 40%. Furthermore, studies have shown that a quarter of the world's 500 largest cities are currently under strain in terms of water supply.
Cape Town is currently assessing projects around water recycling and the building of desalination plants as a means of easing the city's water crisis. However, until then, significant cuts in water consumption for the city's population are expected to continue. In May, Cape Town will become the first major city in the modern era to run out of water.