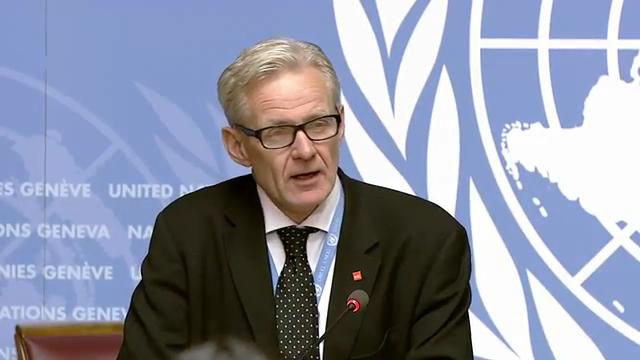 As a timely reminder of the continued uncertainty faced in Syria, the UN Special Envoy for Syria, Mr. Jan Egelend, last week warned the world that the ongoing pain and suffering was far from over. Mr. Egelend expressed his concern at the world's lack of attention towards the still very serious situation in Syria. He stated that "tens of thousands of people" from rural Damascus were preparing to evacuate to Idlib in the north-west of Syria.
Notably, the UN still only has 23 percent of its humanitarian programmes funded for Syria, and the UN Special Envoy has warned that without the required financial resources, there will be insufficient capacity for humanitarian actors to assist with vital humanitarian work.
According to the UN, two million civilians still remain in hard-to-reach areas in Syria, with 11,000 civilians in besieged areas. Although UN reports of improvement have been acknowledged, and besieged areas are declining, there is still enormous hardship felt across the country. The people of Syria have experienced longstanding aid access issues and restrictions, and acute areas in need have constantly faced barriers to receiving humanitarian assistance. The UN has continually highlighted protection concerns for women and children, internal displacement, external displacement into Lebanon and Jordan, insecurity and fear experienced by the Syrian people.
In addition, and as recently as two weeks ago, it was reported that more than 80 people were killed in a suspected chemical attack perpetrated by the Syrian regime on the rebel-held town of Khan Sheikhoun in north-western Syria. In response, the President of the United States, Donald Trump ordered military strikes in an alliance with France and the United Kingdom. Following the United States' airstrikes, the UN Security Council held a heated two-hour debate, where Russia introduced a resolution that condemned airstrikes by the three western powers. The resolution was unanimously voted against in the UN Security Council, eight votes to three, with Russia, China and Bolivia voting in favour. Since then, and as recently as 8 May 2018, Israeli missiles hit a military outpost near the Syrian capital of Damascus and killed nine people.
Following the US-led airstrikes, the UN Secretary-General Antonio Guterres urged countries to exercise caution in its military activities in Syria and reminded countries involved to act consistently with the Charter of the UN and with international law principles and norms. He condemned the use of chemical weapons by the Syrian regime and expressed his deep disappointment that the UN Security Council had failed to agree on a dedicated mechanism for effective accountability on the use of chemical weapons in Syria. Mr. Guterres urged Security Council members to resume their responsibilities for such a negotiation as a matter of urgency.
With ongoing tensions experienced across the country and Syrian civilians living in fear, the UN, the United States, United Kingdom, European Union and allies have continued to argue that the only solution for Syria is a political one. A neutral UN-led peace process, with all sides present in negotiations, has the potential to progress a longstanding and bloody war to a reasonable end. As the world waits for such a process to recommence, global financial support for UN-backed humanitarian projects is needed more than ever.