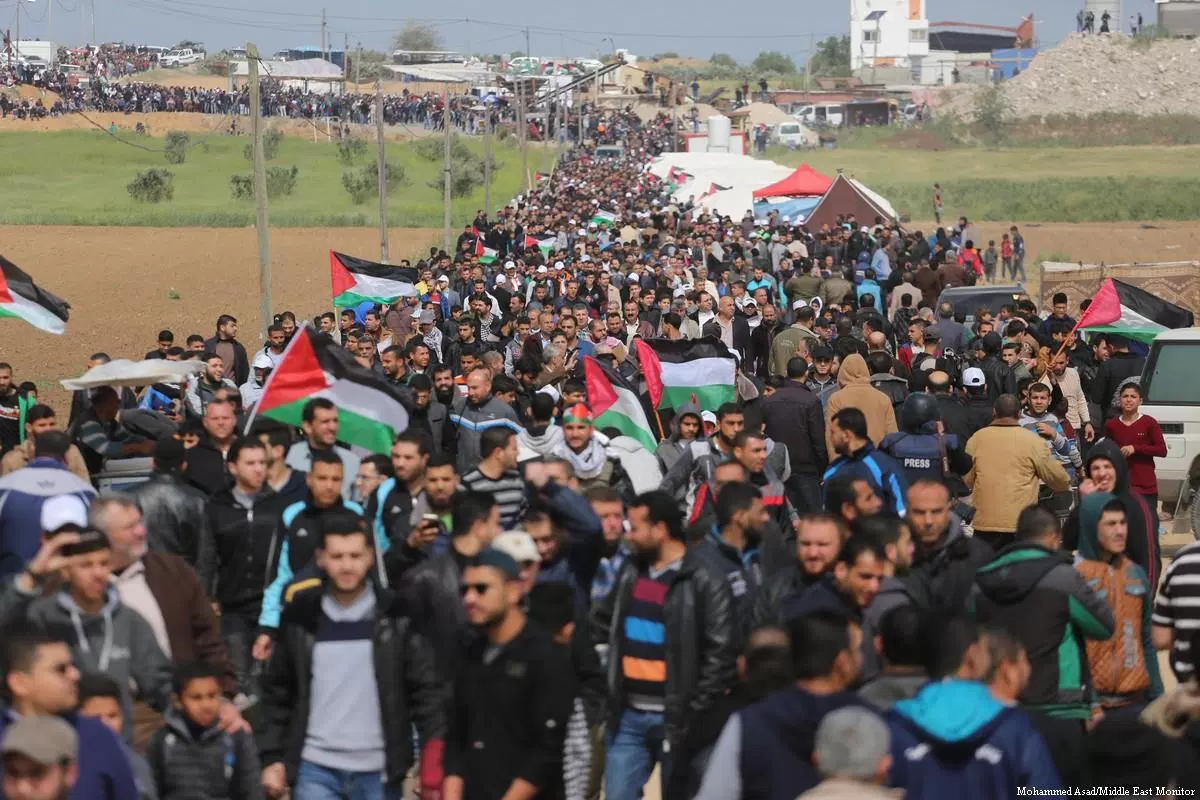 Palestinians in Gaza are set to enter their seventh straight week of protests. These come as part of the 'Great March of Return' protests staged at the border between Israel and the Gaza Strip, aimed at changing the dire situation in Gaza, which UN Secretary-General António Guterres has called the most "dramatic humanitarian crises that I've seen". While these protests started off as peaceful, it did not take long for them to turn violent, with many deaths and countless injuries having now occurred.
The Great March of Return started on March 30, in which groups of youths mounted a protest with three main demands: 1 – an end of the Israeli occupation of Palestinian lands, 2 – that Israel end its blockade on the Gaza strip, and 3 – that Israel allow Palestinians who have fled as refugees to return to their homes in areas which are now classified as Israeli land. The protestors marched to various parts of the fenced-off border between Gaza and Israel in which they began burning tyres and Israeli flags. Other groups hurled stones and even firebombs over the fence, according to the Israeli military. For the most part, though, the United Nations states that these protests have been peaceful.
It did not take long for the Israeli army to respond, but did so with lethal force. At the time of writing, 49 people have been killed, and over 1,500 people have been injured. With protests set to continue, these numbers are likely to rise.
UN human rights official, Zeid Ra'ad Al Hussein, has spoken out against Israel's use of "lethal force against unarmed demonstrators", which has even seen the death of five children. On this, he added, "it is difficult to see how children, even those throwing stones, can present a threat of imminent death or serious injury to heavily protected security force personnel".
The protests have been planned to end of May 15, spanning across six weeks. This is to commemorate the 70th anniversary of the "Nakba", which means catastrophe in Arabic, which saw the displacement of hundreds of thousands of Palestinians, and eventually war between Palestine and the newly created state of Israel in May 1948. The Great March of Return has also seen protests held in solidarity with the Palestinians in many of the world's major cities, including Melbourne and London. These protests have focussed their criticism heavily of the blockade of Gaza.
The Israeli blockade against Gaza has drawn much international criticism.  Since 2007, Israel has imposed strict land, air and sea blockades against Gaza, not allowing freedom of movement for those residing in the area, and allowing only minimal goods to enter the country. This has seen the country go backward economically, in which water, health and sanitation services fail to function correctly. As such, 80% of the Gaza population rely on humanitarian aid to survive.
The UN Secretary-General has expressed his immense wish to see the two feuding states come together, stating that "I have a dream. A dream to one day see the holy land with two states – Israel and Palestine – living in peace and security together".