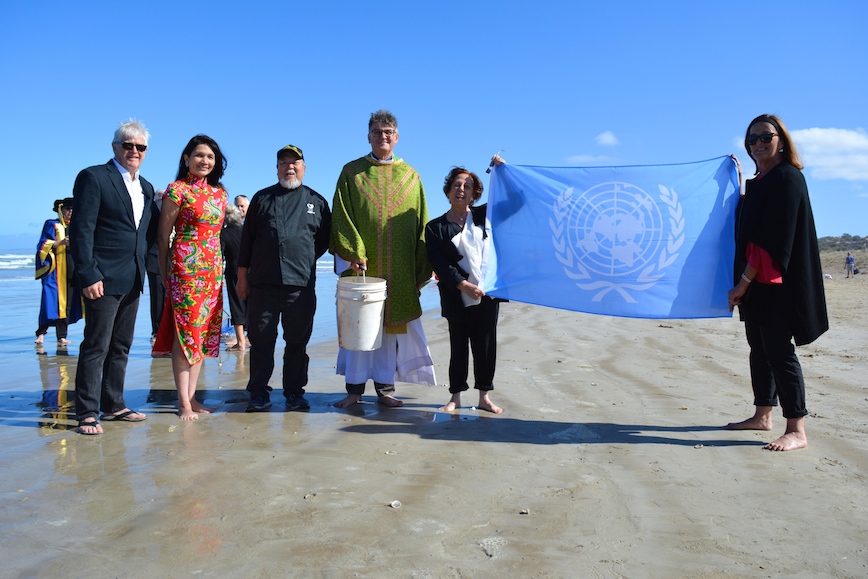 Guest reporter: Tania Paloa –
On Sunday 5th May 2018 a partnership between the UNAASA and Cittaslow Goolwa saw members, guests, well-known chefs and other dignitaries gather together at Goolwa for a very special event. Glorious weather blessed this two-part event in support of the UN Sustainable Development goals — an art installation by renowned contemporary artist Andrew Baines and lunch prepared by food legend Cheong Liew. 
Shoes are removed and pants rolled up to the ankles as everyone treks across the sand to meet on Goolwa Beach. People involved in Andrew Baines unique Pipi Art Installation look a grand sight dressed in their black and white formal attire — some with top hats to match! Nets are thrown back and forth as tagged pipis are thrown into the ocean. Over a period of time, the pipis will be tracked and provide crucial information to benefit sustainability.
We then move to the Signal Point Gallery for lunch, a stunning location overlooking Goolwa Wharf and the Murray River. Warm and sunny weather allows guests to mingle and chat on the deck whilst being spoiled with gin cocktails and seafood appetisers — these include freshly barbecued Pipis and Coorong Mullet.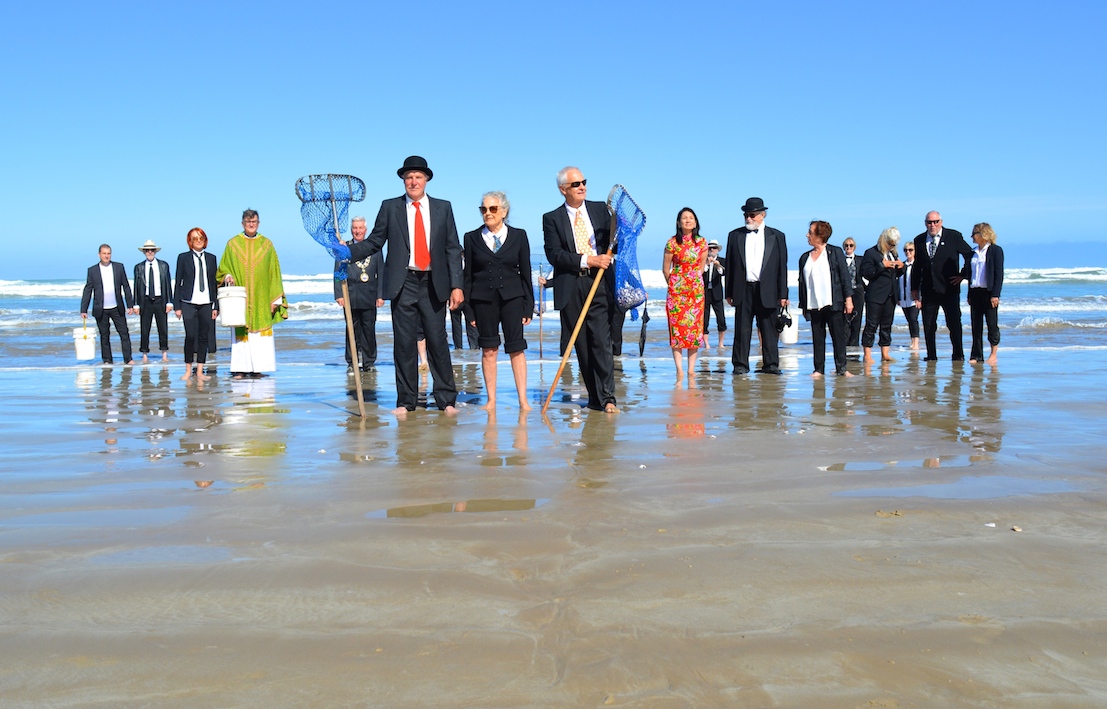 Iconic chef Cheong Liew supported by other well-known chefs including Olaf Hansen, Eddie Ye and Ben Sharp, fire up three huge paella cooking trays and commence preparing a veritable lunch feast. Pipis are in abundance and other ingredients include chicken, rabbit, octopus, pork and squid ink with an array of vegetables.
As we move into the restaurant to sit down for lunch guests are treated to musical performances by talented local school children. The colourful, hanging Cittaslow Goolwa centerpiece is a strikingly handsome focus of the dining room.
Margaret Gardner, President of Cittaslow Goolwa, is MC for the afternoon and introduces the Governor of South Australia, His Excellency the Honourable Hieu Van Le, who officially welcomes everyone. Next, Alexandrina Council Mayor Keith Parkes, a proud patron of Cittaslow Goolwa, speaks about how beneficial Cittaslow Goolwa is for the area, bringing many people together in the community with a way of life that matches the pristine and beautiful environment of the Fleurieu Peninsula. He also comments how beautiful it is that, 'The humble pipi was just a bit of fish bait a few years ago and now it's a culinary delight'.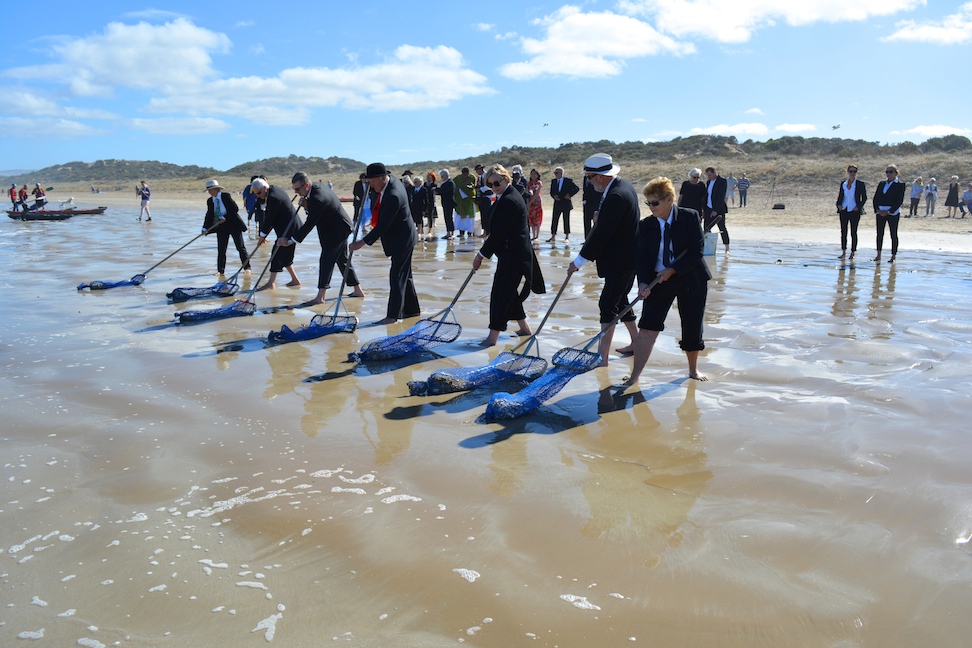 Honourable Reverend Dr. Lynn Arnold then speaks about, in particular, the UN Sustainable Development Goal number 14, 'life below the water'. Recently returned from a UN conference on sustainable development goals, he reports how devastating the increasing levels of water pollution are to the health of fish — specifically due to the level of microplastic particles in the ocean.
Our shared lunch platters are full of flavour and thoroughly enjoyed by all, served with a vibrant, delicious salad and outstanding Langhorne Creek wines — the perfect accompaniment to our meal.
Tom Robinson, Director of Goolwa PipiCo, takes to the microphone and speaks about his sustainable fisheries company which represents 61 percent of the pipi industry.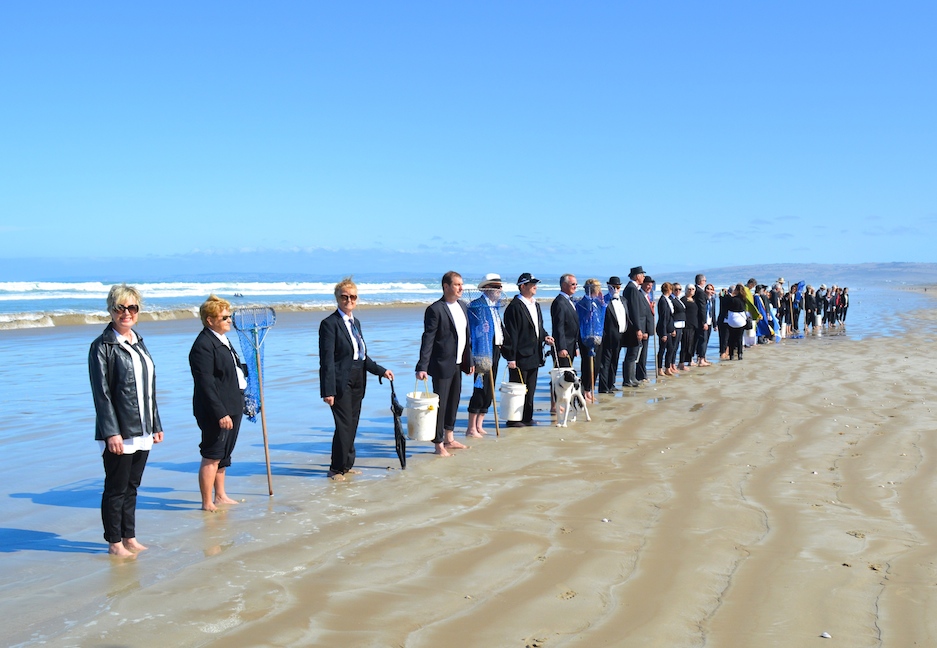 Guests enjoy an irresistible dessert of ricotta cannoli accompanied by almond meringue and fresh strawberries and handmade chocolates.
Lastly, Lidia Moretti, the President of UNAASA and honorary member of Cittaslow, gives thanks to guests, sponsors and distinguished guests for attending this unique event and providing their support. The South Australian food community is also thanked for their ongoing generous sponsorship and support. Distinguished guests and our talented team of chefs are heartily thanked. Artist Andrew Baines is thanked for his involvement, as is the Honourable Dr. Lynn Arnold and Dr. Robyn Layton for their roles as Honorary Ambassadors to the UNAA.
This inspiring afternoon ends with Lidia asking everyone to provide a round of applause to thank her 'dream team' — a combination of talented individuals coming together to ensure an amazing event in Goolwa, 'our little bit of heaven', with special thanks to Cittaslow Goolwa members for their time and dedication.