Primary and secondary school communities are invited to nominate a teacher demonstrating excellence in global citizenship education.
UNAAWA is proud to host the inaugural 2017 World Teachers' Day Awards recognising excellence in global citizenship education. Finalists will be invited to the UN Day Gala Evening at Government House on the 27th October 2017, for the awards announcement and presentation.

The timeline for the 2017 UNAAWA World Teachers' Day Awards:
Monday 11 May Nominations open
Friday 11 August Nominations close at 5pm; email to [email protected]
Monday 18 September Announcement of finalists
Friday 27 October Presentation of Primary and Secondary Awards at UN Day Celebrations, Government House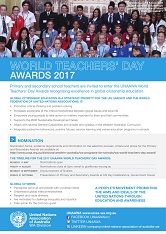 How to Enter

The entry form for Primary teachers is available as both a PDF and a Microsoft Word document.
The entry form for Secondary teachers is available as both a PDF and a Microsoft Word document.
This entry form and supporting attachments (up to three documents) must be submitted electronically and received at [email protected] no later than 5pm Friday 11 August 2017.
Selection Process and Criteria

The judging panel will select up to five finalists each for primary teachers (Kindergarten to year 6) and secondary teachers (Years 7 to 12) based on the nomination and supporting documentation received by 5pm Friday 11 August 2017.
A minimum of two members of the judging panel will interview finalists by visiting the school and observing elements of the global citizenship education program being implemented.
The judges will select finalists and prizewinners based on the following criterion:
Excellence in global citizenship education
(defined as the highest standard of innovation and effectiveness of global citizenship education teaching programs and learning outcomes).
Global citizenship education teaching programs are defined as those that:

Promote critical-thinking and problem-solving
Increase awareness of the interconnectedness between global issues and local life
Empower young people to take action on matters important to them and their communities
Support several of the 2030 Sustainable Development Goals
Align with several of the Western Australian Curriculum General Capabilities (particularly critical and creative thinking, ethical understanding and intercultural understanding) and at least one syllabus
Are an integral part of protective behaviours, positive futures, service learning and values education programs in schools

Global citizenship learning outcomes are defined as students who:

Recognise that we're all one people with universal human needs;
Understand global interconnectedness;
Respect and value diversity;
Have the motivation and empathy to challenge inequality and injustice; and
Are agents of change who take action for the common good.
Recognition

For both the Primary and Secondary Awards:
All finalists are invited to and acknowledged at the UN Day celebrations at Government House, Perth
All participating schools and nominated teachers receive a certificate
Award winning teachers will receive a prize (details to be announced)
Background

The United Nations Educational, Scientific and Cultural Organisation (UNESCO) inaugurated World Teachers' Day in 1994. It commemorates the 5 October 1966 joint signing of the UNESCO/ILO Recommendation on the Status of Teachers. In adopting this recommendation, governments automatically recognised the importance of competent, qualified and motivated teachers in society. Australia celebrates World Teachers' Day on the last Friday in October.
Further Information

To find out more email the UNAAWA School Programs Coordinator at
[email protected].