An Inclusive Future: Designing Sustainable Cities and Communities
August 26, 2021 @ 6:00 pm

-

8:00 pm

$15 – $40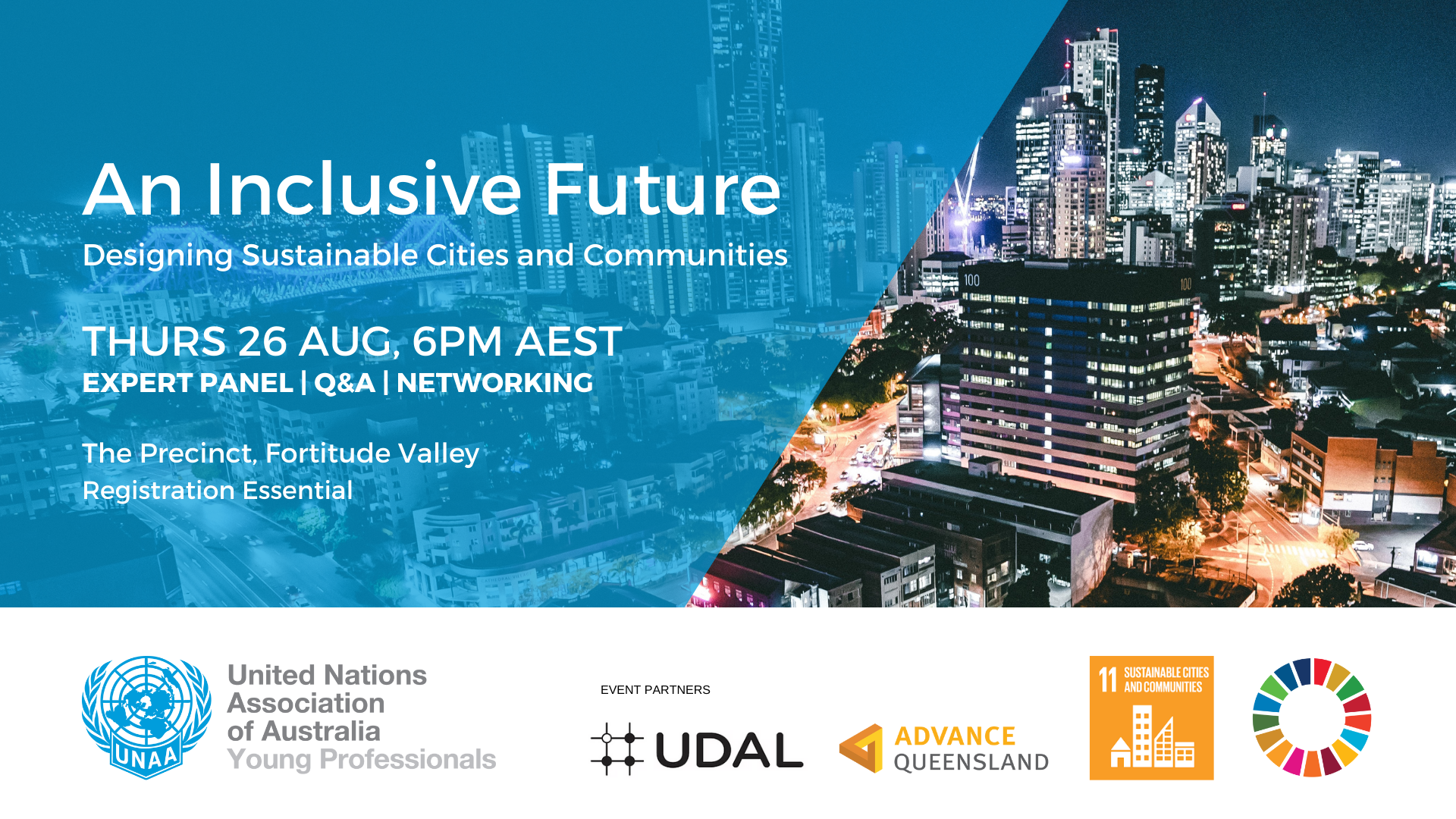 *NB: This event will comply with Queensland Government guidelines. Should restrictions impact our ability to host this event in person, refunds will be made available*

Today, 4 billion people – more than half of humanity – live in cities, and this is expected to rise to 5 billion people by 2030.
Even before the COVID-19 pandemic, cities were dealing with challenges associated with deteriorating air quality, unplanned urban sprawl, and the impact of infrastructure and services that do not meet the needs of growing populations.
Join us as for an in-depth discussion around Sustainable Development Goal 11: Make cities and human settlements inclusive, safe, resilient and sustainable, and how we can address inequalities. We'll focus on the multi-faceted process it will take to ensure the future of our urban environments is designed with sustainable development in mind.
Designing inclusive, sustainable cities and communities requires technical and cultural expertise and input from all fields. From engineering and architecture, to data and social sciences, achieving this goal will require significant engagement at government and grassroots levels.
Join in the conversation with our incredible solutions-focused panel, as we discuss what we want to see in our cities, understand the complexity of urban design and explore how we can work together to achieve better outcomes for all.
MEET OUR PANEL:
? Associate Professor Elske van de Fliert –  School of Communication and Arts, Director of the Centre for Communication and Social Change, UQ. Elske's research focuses on the theory and practice of participatory communication in sustainable development and social change, and frameworks for and facilitation of transdisciplinary research for development, with application across fields  including agriculture, rural and community development, and energy poverty.
? Norman McGillivray – Founder, Beddown
Originally from the UK, Norm's background has seen him work in the Automotive Industry for Jaguar and LandRover. In Australia, Norm has worked in Industry, Government and the Not-for-Profit sectors. Now Norm is challenging conventional thinking to address the massive social issue of homelessness here in Australia as he looks to implement his vision for the charity Beddown he has founded of 'We believe everyone deserves a bed to sleep in.'
? Dr Kathi Holt – Executive Director, NERØHOLT
An architect and urban designer with more than 30 years of international industry and academic experience, and an executive Masters in Cities from the London School of Economics, Kathi is a passionate believer that social determinants and inequalities are closely linked to the conditions in which we live and work. NERØHOLT is a design research and consulting practice that works with universities, government agencies, not-for-profit organisations and commercial practices, to collectively tackle complex projects, and is focused on the public spaces of our cities as the key to designing a better, more equitable, healthy and sustainable future.
? Toby Turner – Urban Utilities
Toby is a civil engineer with 15 years' experience in urban infrastructure planning. He is also a political science major who has worked in the aid and development sector for NGOs in East Africa and the Pacific, including as a UNICEF Consultant.
KEY EVENT INFO:
– Venue: The Precinct start-up space in Fortitude Valley
– Light refreshments provided
– Dress code is business casual
– Registration essential ($15 Members/Students, $25 General Admission, or $40 Bring a Friend)
Doors open at 6pm!
Please do not attend if you have COVID-19 symptoms. Stay at home if you feel unwell or have a cough, fever, sore throat, fatigue or shortness of breath. Attendees are responsible for maintaining physical distancing (including when entering and exiting the event). If you do become unwell during the event, please seek assistance from a member of the UNAA Young Professionals QLD team. If you cannot attend the event because you are unwell, you will receive a full refund on your ticket.
————————————————————————————————-
As always, we at the UNAA respectfully acknowledge that this event will be hosted on the land of the Turrbal and Yuggera peoples. We pay our respects to Elders past, present and emerging, and fully commit to working together now and in the future.