Finding Refuge: The refugee crisis, the role of the UN and what more we can do.
July 21, 2021 @ 6:00 pm

-

8:00 pm

Free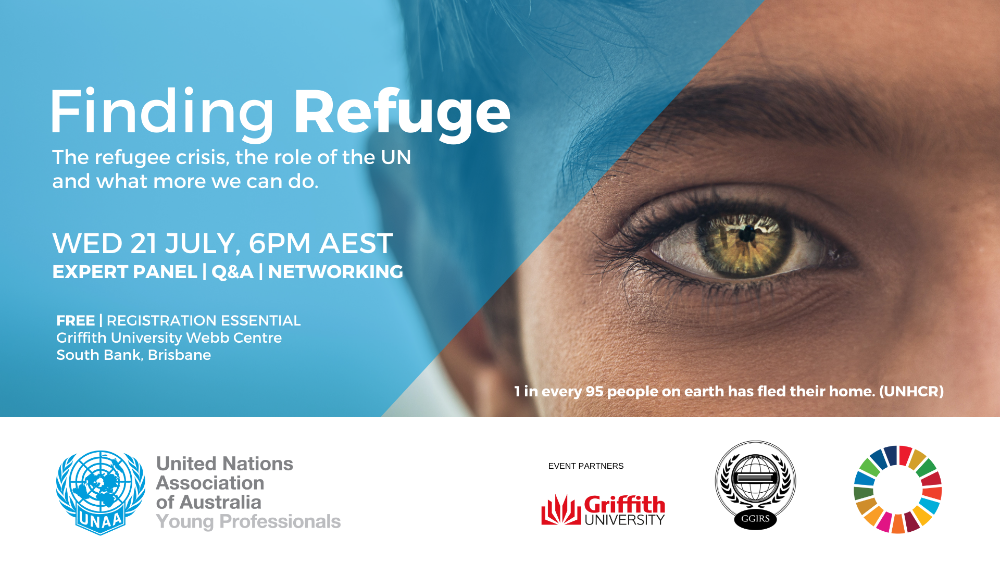 Registration Essential: Click here to register
Currently, one per cent of the world's population – or 1 in 95 people – is now forcibly displaced. This compares with 1 in 159 in 2010. The COVID-19 pandemic has amplified the vulnerability of refugees, with many lacking access to national health and social services. Border closures have also hindered asylum and resettlement opportunities.
Join the UNAA Young Professionals Queensland Division for our fourth annual event exploring current issues affecting refugees around the world. We'll take a look at case studies and hear from a diverse panel to understand the challenges facing refugees, including the impacts of the COVID-19 pandemic.
We'll also explore the historic and current role of the United Nations in supporting refugees, forcibly displaced communities and stateless people through the work of UNHCR, the UN Refugee Agency – its achievements and its limits.
And together, we'll learn more about what we can do individually, and as a community, to contribute to solutions.
PANELLISTS:
🔹 Amatus Akouboo Douw: Chairman of the Diplomatic Council for Free Papua Movement based in Brisbane. Amatus is an ex-political asylum seeker who came by canoe in 2006. He gained a Bachelor of International community Development at Victoria University, Melbourne 2015. He has advocated a worldwide refugee crisis with Australia for UNHCR in Queensland since 2016. He is now advocating one of the most silent and serious humanitarian crises in his country of West Papua for immediate international intervention.
🔹 Beata Ostapiej-Piatkowski: Beata manages Mercy Community Romero Centre in Brisbane, providing refugees and people seeking asylum with practical support. A Board Member of the Refugee Council of Australia, Beata has experience working with people from refugee backgrounds within the context of seeking asylum, sexual assault, domestic violence, mental health, child safety, and intergenerational/intercultural youth issues. Originally from Poland with a background in psychology, Beata has personally experienced great dichotomies of civil rights during her journey of seeking asylum and living in different countries.
This event is free of charge, however if you are able we would greatly appreciate your donation to UNAA Young Professionals Qld towards the costs of running this and future events!
Venue: Level 7, Griffith University Webb Centre (S02).
Light refreshments provided
Dress code is business casual
Registration essential
Doors open at 6pm!
NB: This event will comply with Queensland Government guidelines.
Should restrictions impact our ability to host this event in person, it will be hosted online via Zoom and registered attendees will receive details via email to join the event.
————–
As always, we at the UNAA respectfully acknowledge that this online event will be hosted by individuals on the land of the Turrbal and Yuggera peoples, as well as watched by others from across the many Nations. We pay our respects to Elders past, present and emerging, and fully commit to working together now and in the future.