Sustainability in Action: UNAA Young Professionals National Event Series Launch
May 12, 2021 @ 6:00 pm

-

7:00 pm

Free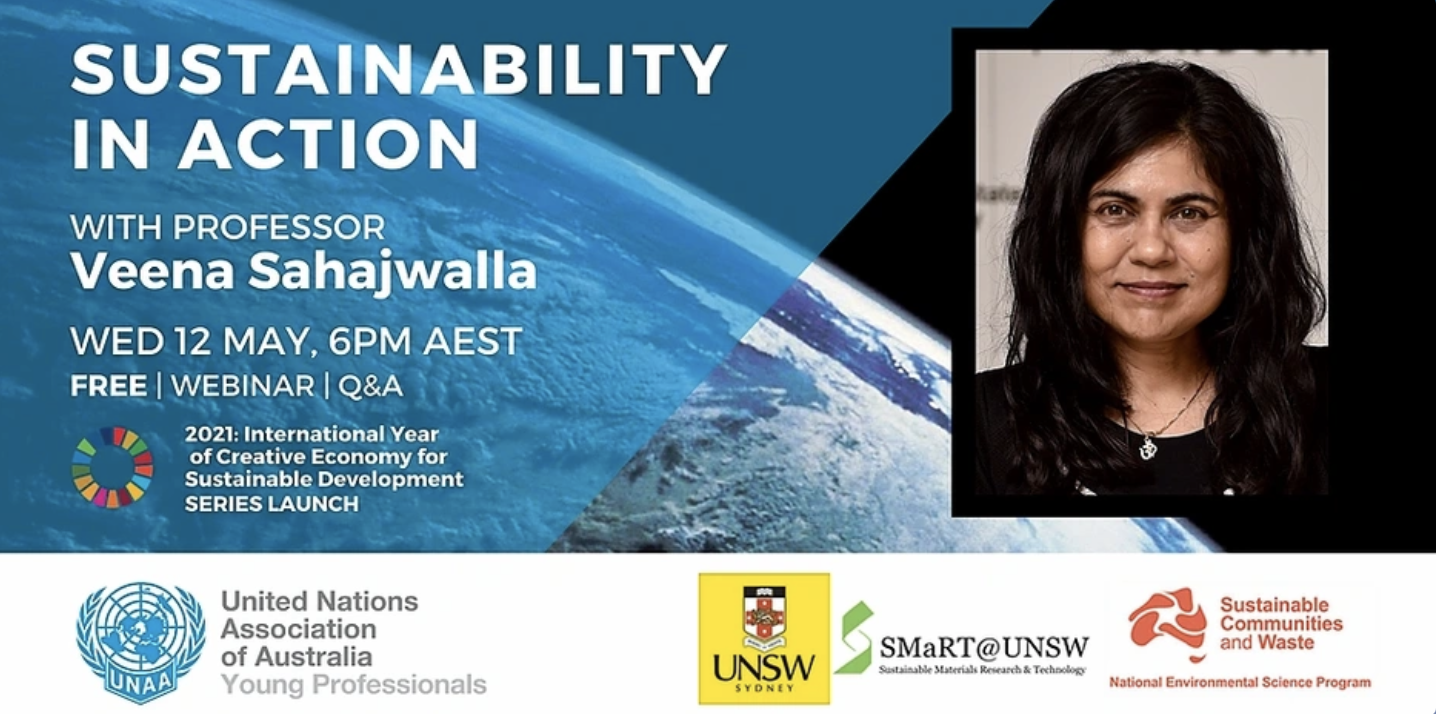 2021 is the United Nations International Year of Creative Economy for Sustainable Development, and it couldn't be timelier. In recognition, the UNAA Young Professionals are presenting a national event series on the topic. We are delighted to partner with Professor Veena Sahajwalla, internationally recognised materials scientist, engineer, and recycling revolutionary to kick-off the series.
Professor Sahajwalla has pioneered re-using tyres in 'green steel' production, launched the world's first e-waste MICROfactorie TM , and is the Director of the Australian Research Council (ARC) Industrial Transformation Research Hub for 'microrecycling'. She's incredible, and you can check out her 'Queen of Waste' feature on ABC's Australian Story here!
Professor Sahajwalla will open the national event series with a keynote address and discussion with event attendees. Participants will have the opportunity to ask questions, pose issues, and take a sustainability self-assessment to start the learning journey across the national event series.
Registration is free, and we look forward to seeing you all online!
The Series 
Covid-19 has taken a massive toll on the creative industries, with workers in arts and cultural industries suffering more than most. In recognition of the UN declaring this year of significance for 2021, the United Nations Association of Australia Young Professionals are launching a series of events across the country. Each event will focus on one area where creative thinking is needed for Sustainable Development in performance, science, industry, and the environment, and importantly where individual action can make a difference.
The Speaker
Professor Veena Sahajwalla is the Director of Sustainable Materials Research and Technology (SMaRT) Centre at the University of New South Wales. She is an internationally recognised materials scientist, engineer, and inventor revolutionising recycling science. Renowned for pioneering the high temperature transformation of waste in the production of a new generation of 'green materials', Professor Veena is also the inventor of a polymer injection technology, known as green steel, an eco-friendly process for using recycled tyres in steel production. In 2018, Professor Veena launched the world's first e-waste MICROfactorie TM  and in 2019 she launched her plastics and Green Ceramics MICROfactories TM , a recycling technology breakthrough.
Professor Veena is the Director of the ARC Industrial Transformation Research Hub for 'microrecycling', a leading national research centre that works in collaboration with industry to ensure new recycling science is translated into real world environmental and economic benefits.
Professor Veena has also been appointed hub leader of the national National Environmental Science Program (NESP) Sustainable Communities and Waste Hub, working with research institutions and many industry, government and community stakeholders to reduce the effects of plastics and other waste, support sustainable people-environment interactions and offer solutions to minimise impacts of hazardous substances and pollutants. In 2021, Professor Veena featured in the ABC's Australian Story.