United Nations Association of Australia Queensland division proudly presents the United Nations Habitat III +5 Symposium
March 24, 2022 @ 4:00 pm

-

6:00 pm
United Nations Habitat 3 Plus 5 Symposium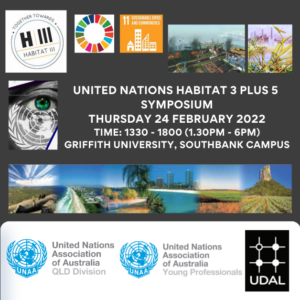 Event description
United Nations Association of Australia Queensland division proudly presents the United Nations Habitat III +5 Roundtable Series. Following on from the kick-off event in February, this is a series of exciting online panel discussions in relation to the UN-Habitat III New Urban Agenda (NUA) adopted in 2016. As part of implementing the NUA, the South-East Queensland region held a workshop in 2017. It has been 5 years since the previous event and it is time to reflect on any progress and potential for furthering the NUA in a local context.
The proposed schedule of series will be based on the different NUA Policy Areas and are as follows:
24th March Roundtable with Provocateur Palani Thavar

Urban Housing and Basic Services (Policy Area 6) 
Social Cohesion and Equity Livable Cities (Policy Area 1)


24th April Roundtable with Provocateur Dr. Donnell Davis

Urban Ecology and Environment (Policy Area 5)

24th May Roundtable with Provocateur Dr. John Montgomery

Urban Frameworks (Policy Area 2)
Urban Economy (Policy Area 4)

24th June Roundtable with Provocateur Rod Welford

Spatial Development (Policy Area 3)

24th July Roundtable with Provocateur Ritva Vilppola

Sustainability Audit and Governance (The SEQ H3+5 Declaration)
Come and join us for a thought-provoking discussion on how we all can envision our South-East Queensland in relation to the UN-Habitat III New Urban Agenda! There will also be an optional virtual pub to meet and chat with others starting from 5.30-6PM.
Zoom details will be provided to registered attendees prior to each event day listed above. Please ensure you register a separate ticket for each month you intend on attending. 

UPCOMING EVENT: HOUSING AS A UN HUMAN RIGHT 
On the 24th March starting from 4.00PM, we will be hearing from some fantastic panellists on envisioning the future of housing in our SEQ cities and communities. Speakers include:
Emma Greenhalgh, Director (ED National Shelter)
Rachel Watson, Manager (Housing Lab)
Ritva Vilppola, Housing Working Group Coordinator (Maleny Neighbourhood Centre)