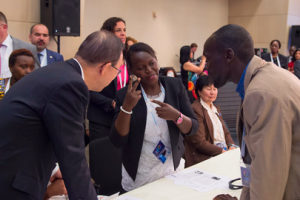 The first-ever World Humanitarian Summit was held in Istanbul, Turkey this week, praised by the UN Chief for setting a 'new course' toward alleviating the suffering of millions. This Summit has introduced a charter that stands to dramatically benefit the lives of people living with disabilities, particularly during ties of emergency.
Often left behind in times of crises, planning has been largely overlooked for people in need of special assistance, particularly in times of armed conflict or natural disaster when resources are strained and coordination is limited or lost.
The UN Special Rapporteur on the Rights of Persons with Disabilities recognised the intersection between 'humanitarian crises and persons with disabilities', during a special session during the Summit at which experts met to discuss the inclusion of complicated needs in humanitarian action.
The Charter on Inclusion of Persons with Disabilities in Humanitarian Action urges government actors to take the steps necessary to ensure that disabled persons are protected, while maintaining respect for their dignity and eliminating discrimination.
The Charter recognises that persons with disabilities are disproportionately at risk of discrimination, exposed to targeted violence and face the dangers of sexual and gender-based violence. Its primary commitments include non-discrimination, with particular attention for the situation of women and girls, the engagement of all relevant States and the employment of policies based on existing strategies and frameworks.
According to Colin Allen, the next chair of the International Disability Alliance (IDA) the purpose for the special session was to establish accessible systems so that in the event of humanitarian crises, these protocols would be easy to facilitate. He highlighted the need for preparation, particularly citing the importance of sign language and having specialists on hand to help in such situations.