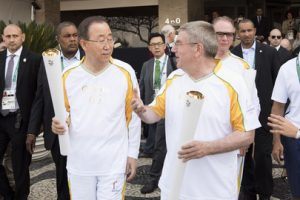 With a reach of over one billion people, the Olympic and Paralympic Games provides a world stage on which to showcase a nation's potential. From culture to scenic beauty, history, music, food and more, the opportunity is one to be seized by a host country – the economic benefits are a huge boost to tourism and business in general.
So what happens after the fireworks at the closing ceremony? The Rio Olympics official website promotes the notion of legacy, celebrating a variety of areas, including education, culture and sustainability https://www.rio2016.com/en/legacy. Aligning Olympic legacy with the United Nations Sustainability Goals is the ideal pairing.
While Rio's Olympic planning was not without problems, the biggest winner has been the legacy of infrastructure. With an estimated 63% of the Olympic budget allocated to infrastructure, there has been significant investment in several projects including sport centres, the Olympic villas, the Athletes Park and The Rio de Janeiro Port which includes 5 million square metres of renovation involving the removal of the Permitral overpass and replacing it with express roadways, tunnels and underground passages.
The redevelopment also included the addition of two new museums and much more. 160 training locations in 18 states across Brazil certainly ticks the box for spreading tourism and trade throughout the country and not just Rio. Sporting facilities, travel and tourism are the big winners here.
Transforma is an education initiative bringing the Olympic values and experiences into schools. Four categories of training courses are available for public and private schools from 1st grade through to high school that permits sporting experiences, digital interaction, and school challenges and festivals that explore the Olympic values and themes.
The volunteering programme brings together different disciplines to deliver a seamless games experience. Work experience in customer service, technology, ceremony production, health services, sports, press and communication, operational support, protocol and languages and transport gives a pool of people an unforgettable experience – and transferrable skills.
While not without its challenges and certainly a large undertaking, having a purpose of legacy and aligning that with a bigger picture such the United Nations Sustainability Goals can help ensure positive outcomes for a country's economy and its citizens.