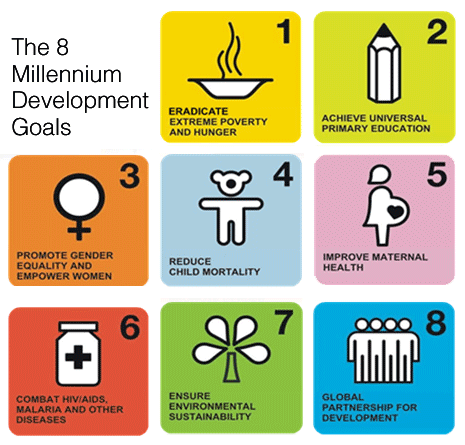 As we make our first steps into 2017, it is the right time to look back and review the progress achieved by the United Nations in 2016. This year, the UN launched new goals to accomplish for the next decade, and officially replaced the Millennial Development Goals (MDG) by the Sustainable Development goals (SDG). Substituting eight broad goals with a set of seventeen new objectives including 169 specific targets, was most certainly a risked challenge. What really is the outcome today? How far did the UN achieve the MDG and how different are the SDG?
Let's compare the eight MDG with the current global situation, sixteen years after their creation.
1. To eradicate extreme poverty and hunger
The World Bank sets the poverty line at US$1,9 a day, which therefore means that in 2013, more than ten percent of the world's population was poor. A total of approximately 20% less than in 2000. In other terms, since the MDG were set, a fifth of the world population has seen its income raised above the poverty threshold. However, this line is extremely low and even people living well above this line do experience multiple difficulties coping with basic necessities. Moreover, extreme poverty reduction was mainly driven by Asian countries (eg. China, Indonesia, India) while people living in Sub-Saharan Africa have been much less led by this trend.
Meanwhile, hunger has been on the rise for the last decade. The World Food Program estimates that the number of hungry people has increased from 857 million people in 2000 to 1,02 billion in 2009. However, more recent numbers from the same organisation estimate the current amount of hungry people to less than 800 million people. In other words, a mitigated success for the first UN MDG. The new SDG differentiate poverty and hunger and do not create a correlation between the two.
2. To achieve universal primary education
Primary education has decreased from 731 million people without basic education to 668 million people in 2015. Although in Africa, nine million more people did not reach primary school during this period.
3. To promote gender equality and empower women
In terms of gender gap, nearly every country in the world has seen equality between women and men slightly improved. Yet, it is however to assess gender equality with accuracy and the SDG are more precise than the MDG on this topic.
4. To reduce child mortality
According to the World Health Organisation, child mortality rates have been divided by two between 1990 and 2012, with deaths due to measles declining by 80% and deaths due to HIV/AIDS or diarrhoea by half.
5. To improve maternal health
Over the last quarter of century, maternal mortality rate fell by almost 50%, with the greatest decline in Southeast Asia where the rate fell by 72%.
6. To combat HIV/AIDS, malaria, and other diseases
While malaria deaths and children mortality due to AIDS have been cut in half, other 'top 10' diseases have, however, increased, such as the ischaemic heart disease, strokes, or lower respiratory infections. Furthermore, while global AIDS-related deaths are progressively falling since 2005, the number of people living with this disease keeps rising.
7. To ensure environmental sustainability
Two of the four targets stemming from the seventh MDG were to reduce biodiversity loss by 2010 and to halve the population without access to drinking water by 2015. While the latest objective has been achieved as people accessing drinking water were 82,5% in 2000 and 91% in 2015, the former is more difficult to assess. As explained by the MDG Monitor, although deforestation has slightly decreased and the ozone layer is expected to recover by 2015, many developing regions (e.g. South America and Africa) still have reported significant losses of forest area (mainly due to climate change) and global greenhouse emissions are on the rise (from around 37,000 million metric tons in 2000 to around 46,000 in 2010) which will result in stronger changes in the climate system.
8. To develop a global partnership for development
Finally, global efforts to develop a partnership for development have been rather successful as official development assistance from developed nations increased by 66% between 2000 and 2014, the proportion of external debt service to export revenue in the developing world reduced from 12 to 3 percent between 2000 and 2013, and there was a massive increase of mobile cellular signal and internet penetration all around the world.
Early 2016, the UN started the year proud of its successes but particularly aware of all the challenges still remaining. The UN was far from being the sole actor behind the progress made in the eight goals settled in 2000, and there is still an impressive list of things to improve. Furthermore, numbers do not tell us the whole story. Thresholds do not represent a same reality fifteen years ago or today, slight "global" improvements only hide the poor achievements of some extremely poor regions, and percentages are usually more trustworthy than raw numbers that do not take into account data such as the population's rise in low-income countries. It is in this optic that the Sustainable Development Goals picked up the burden last year. One major difference between the two is that while the MDG were usually planning to halve global problems, the SDG really aim at reaching "zero". Utopian? Of course. But this 'zero tolerance' policy forces every country to do its best instead of simply achieving the easiest and most convenient strategies. Moreover, every country will be expected to contribute to the SDG as the majority of the poorest people live in middle-income countries. Finally, as emphasised by The Hunger Project, while quantity was the main MDG's concern, quality is now being more considered: quality of education, funding, and data. Let's hope that the SDG will generate such impressive results and do even better than its predecessor.
For an exhaustive list of the SDGs, check the UN website: https://sustainabledevelopment.un.org.
All the data can be found in the websites of these organisations:
MDG Monitor
Our World in Data
The Hunger Project: https://advocacy.thp.org/2014/08/08/mdgs-to-sdgs/
World Bank
World Food Program
By Laura K. Salemi