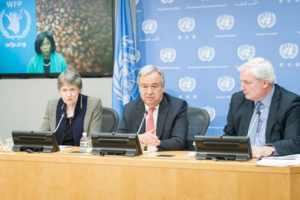 The United Nations has called for international action to tackle a critical and unprecedented humanitarian situation, with famine threatening four different countries simultaneously. A day after famine was officially declared by the UN in South Sudan, Secretary-General António Guterres joined other top United Nations officials calling for "strong and urgent" action from the international community to help tens of millions in northern Nigeria, Somalia and Yemen facing acute food insecurity.
"Famine is already a reality in parts of South Sudan. Unless we act now, it is only a matter of time until it affects other areas and other countries. We are already facing a tragedy; we must avoid it becoming a catastrophe," said the Secretary-General, stressing: "This is preventable if the international community takes decisive action."
According to the new edition of FAO's Crop Prospects and Food Situation report, an estimated 37 countries require external assistance for food, including 28 in Africa. Protracted conflicts, displacement and civil insecurity, as well as the lingering effects of last year's El Niño-triggered droughts on harvests, have triggered severe levels of food insecurity across  Nigeria, Somalia, South Sudan and Yemen, with over 20 million people facing famine.
"This is an unprecedented situation. Never before have we been faced with four threats of famine in multiple countries simultaneously," Kostas Stamoulis, the Assistant Director-General of the Food and Agriculture Organization (FAO), said in a news release issued last week.
Conflicts and civil unrest in Afghanistan, Burundi, the Central African Republic, the Democratic Republic of the Congo, Iraq, Myanmar and Syria are also exacerbating food insecurity conditions for millions of people as well as affecting nearby countries hosting refugees.
Briefing the press at UN Headquarters in New York alongside the UN Emergency Relief Coordinator, Stephen O'Brien, and the UN Development Programme (UNDP) Administrator, Helen Clark, Mr. Guterres stated that saving lives is the UN's first priority in tackling the crises, which will require at least $4.4 billion by the end of March to avert a humanitarian catastrophe. Mr Guterres, backed by Mr O'Brien, stated that a coordinated long term approach that builds resilience to shocks is also critical.
There is an intrinsic link between the global challenge of food insecurity and other current or emerging global challenges such as climate change, global conflict, displacement and migration and extreme poverty. Their combined effects are placing an unprecedented number of countries at the tipping point of famine, whilst continuing to exacerbate food insecurity in many regions. Humanitarian response must take full account of the interconnectedness and compounding effect of these global challenges when providing both emergency response and longer-term risk reduction strategies.