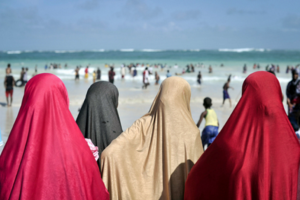 This week on March 21, International Day for the Elimination of Racial Discrimination was observed by the United Nations, governments and organisations across the globe. As societies become increasingly diverse and multicultural, targeting racism and all forms of discrimination is so important for peace and social cohesion. The rights to equality and non-discrimination are cornerstones of human rights law. Yet in many parts of the world, racism and discrimination based on "race," colour, ethnicity and religion against immigrants or persons from visible minorities persists.
This year's thematic focus was: Racial profiling and incitement to hatred, including in the context of migration. Racial and ethnic profiling is defined as "a reliance by law enforcement, security and border control personnel on race, colour, descent or national or ethnic origin as a basis for subjecting persons to detailed searches, identity checks and investigations, or for determining whether an individual is engaged in criminal activity," according to a recent report to the Human Rights Council by the Special Rapporteur on contemporary forms of racism, racial discrimination, xenophobia and related intolerance, Mutuma Ruteere. In an age of increased globalisation and migration, the theme highlights the need to build inclusive societies: societies that facilitate the integration of citizens of all origins by respecting differences and ensuring equal opportunity.
Over the years, events organised around the world have highlighted the importance of collective action to combat all forms of discrimination, including racial discrimination. This year, UNESCO and the Musée de l'Homme are organising an exhibition to be held in Paris from March on the theme of "Us and Them – From Prejudice to Racism", which aims to shed new scientific light on racist behaviour and prejudices. Together with the International Coalition of Inclusive and Sustainable Cities (ICCAR), UNESCO is establishing a network of cities committed to developing policies in favour of urban inclusion, non-discrimination and diversity.
Important measures have been taken at the international, regional and national levels to address the challenge of racial and ethnic profiling, ranging from the development of regional and international coalitions, to the anti-discrimination training of law enforcement officers. When it comes to working out viable long-term solutions to combat racism and racial discrimination, choices may differ from one country to another. All strategies, however, should comprise measures in the areas of legislation, awareness-raising, education, housing, employment and cultural activities. In response to the ongoing refugee and migration crisis, advances are needed now more than ever to guide countries in anti-discrimination strategies that maintain and foster human dignity and social responsibility.