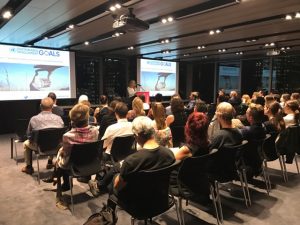 On 15 March, the NSW Young Professionals team was delighted to welcome thought-leaders from Sydney's business, government, and not-for-profit sectors to the launch of their 2017 program of events.
The highlight of the evening was undoubtedly the keynote address by Ms Edda Hamar, Co-Founder and Director of Undress Runways and one the United Nations' 17 Young Leaders for the Sustainable Development Goals. Edda spoke passionately about the need for a more sustainable and ethical fashion industry. She emphasised this responsibility lies not only with producers, but also consumers who must resist "fast fashion", designed to last the season and instead buy better and buy less to help realise SDG #12 (responsible production and consumption). The audience was also given a sneak peek of Edda's newest project, transformative clothes sharing a platform, to be launched soon.
The NSW Young Professionals team also took the opportunity to give guests an exclusive look at their newly revamped web page, social media channels and revealed their next exciting event – The Future of Zimbabwe: post-Mugabe era.
The evening concluded with networking drinks and canapes which saw the team connect with prospective partners, sign up new members and generate feedback on the type of future events people would be interested in attending. All in all, this has set the benchmark for a stellar 2017 for our NSW Branch in 2017.
The NSW Young Professionals would like to sincerely thank event host, Maddocks, for their generous contribution to the event.