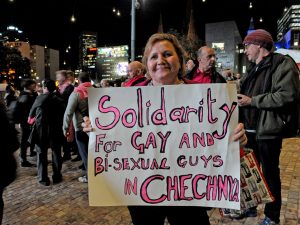 While the debate is currently raging in Australia regarding same-sex marriage, the United Nations continues to fight against atrocities committed against LGBTQI people around the world. The most notable of which is the continued abuse, torture and murder of homosexual people in the Russian republic of Chechnya.
For months, reports have been showing that Chechen authorities have been persecuting homosexuals. The conservative republic's leader, Ramzan Kadyrov, has been outspoken against the country's gay population and has reportedly had many gay Chechens rounded up and placed in concentration camps, in which they are tortured and murdered. Kadyrov has denied these allegations and the existence of the concentration camps. In fact, the Chechen leader has denied having any gay people in Chechnya at all, but has also added that if there are gay people in Chechnya, then they should be taken away, "to purify our blood".
Consequently, gay Chechens have been seeking refuge in numerous other nations, including France, Germany, and Lithuania who have all recently accepted refugees escaping this oppression. Most notably, since June of this year Canada has been accepting Chechen refugees, now totaling 31, and plans to continue doing so. However, the media reported one Chechen refugee was recently threatened by other Chechens for being gay, shortly after arriving in Canada.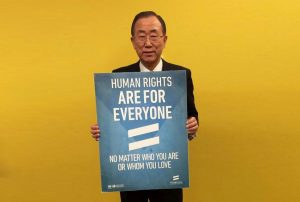 As stated by former UN Secretary-General Ban Ki-Moon, legal rights are improving in many nations for gay people. However, this is often not reflected by changes in social attitudes. Speaking on conditions even within the United Nations, Mr. Ban argued that "equality begins at home, and I am all too aware that LGBT colleagues at the UN, and their families, continue to face challenges". This shows that while great strides are being made in LGBTQI rights, much more needs to be done, not only legally, but also socially. In 2016, the UN did take a step in the right direction by voting to appoint an Independent Expert on violence and discrimination based on sexual orientation and gender identity. Mr. Vitit Muntarbhorn from Thailand was appointed in September last year and continues to speak out in defense of LGBTQI people across the world.
Closer to home, the UN has slammed Australia, stating that not allowing gay people to get divorced is a breach of their human rights.  Under current law, those in a same-sex marriage who was married in another country are not able to get a divorce in Australia. Surprisingly, those who enter into polygamous marriages in another country are able to get a divorce in Australia. The United Nations Human Rights Committee ruled that not allowing same-sex couples to get divorced breaches their human rights, adding that "the state party is also under an obligation to take steps to prevent similar violations in the future and to review its laws in accordance with the present views".
This shows that while the same-sex marriage debate is currently grabbing many headlines across the nation, LGBTQI people across the globe, including here in Australia, still face many issues of discrimination and even outright abuse.