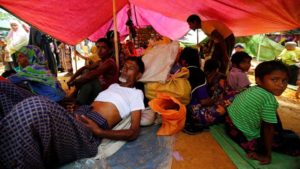 A new UN report, publicly released on 11 October, details the tactics administered to attack and drive away the Rohingya population in Myanmar.
This report was released by the Office of the UN High Commissioner for Human Rights (OHCHR) and discusses the human rights violations committed by the Myanmar security forces and groups of Rakhine Buddhists. The findings of the report were based on interviews with the refugees.
The UN report gives the assessment that the destruction of Rohingya villages in Rakhine at the hands of the Myanmar security forces was "executed in a well-organised, coordinated, and systemic manner". By destroying their homes, their crops, and their fields, among other things, the Myanmar security forces not only sought to drive out the Rohingya population, but to actively discourage them from returning, and resuming their lives by destroying their livelihood. Those who did try to return were beaten and killed by the security forces, as their surviving relatives stated in the interviews. It was further revealed that the Rohingya were warned in advance by local authorities that their villages would be targeted, meaning that the attacks were indeed planned.
The report also notes that the Rohingya with influence, such as teachers, businessmen, religious and community leaders, were specifically targeted and killed. Mosques, notable landmarks, and geography of the Rohingya landscape were also devastated. These efforts were taken to effectively diminish and remove Rohingya influence, culture, and knowledge, to leave nothing behind.
It also states and specifies that the security forces committed extrajudicial and summary execution, rape and other forms of sexual violence, and torture and abduction.
The UN High Commissioner for Human Rights, Zeid Ra'ad Al Hussein, called the operations a "textbook example of ethnic cleansing" and have urged the government of Myanmar to "immediately end its 'cruel' security operation". That in denying their "political, civil, economic and cultural rights, including the right to citizenship" this appeared to be a "cynical ploy" by the Myanmar government to "forcibly transfer large numbers of people without possibility of return".