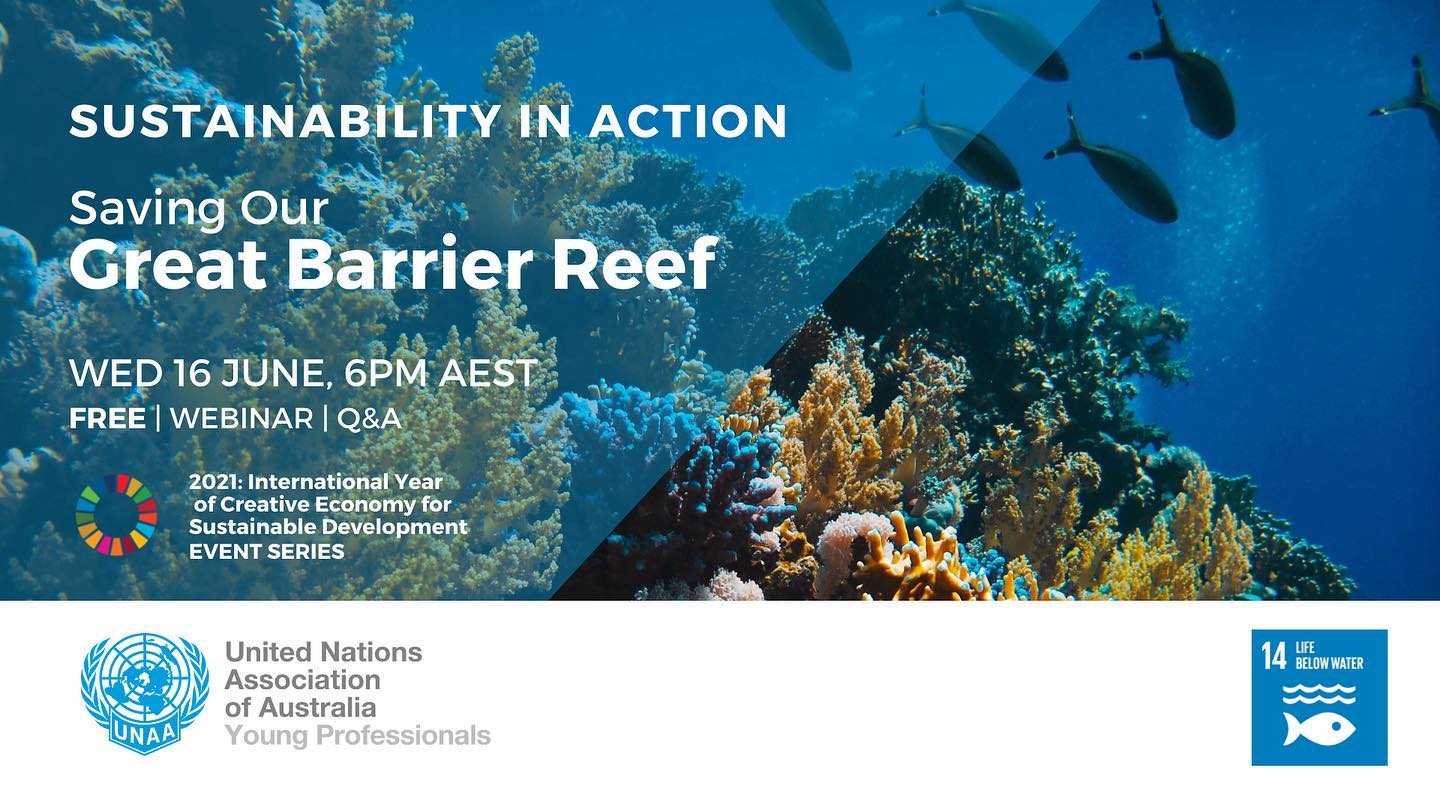 On Wednesday 16 June 2021, UNAA Young Professionals Qld hosted their key event as part of the Sustainability in Action series. Focused on saving our Great Barrier Reef, our four expert panelists brought the very best of their experience and knowledge to the (online) table.
You can watch the full recording of the event below:
Professor Peter Mumby began his career helping to design marine reserves in Belize and experienced first hand the limited scientific basis for decision-making. He then began a research pathway with a goal of providing science that can inform practical conservation and management action. His research combines field observations, experiments, remote sensing, and ecological modelling to answer questions about ecosystem resilience, impacts of climate change, marine reserve functioning and design, connectivity of ecosystems, coral reef fisheries, and marine spatial planning to capture ecosystem services. He is happiest on a coral reef with a camera in his hands.
Jen McWhorter's joint PhD between the Universities of Queensland and Exeter (QUEX) explores a unique methodology for improving climate projections on coral reef environments. She began her PhD following 8 years of experience in marine spatial planning, ocean observations, and marine policy. Commonly seen in the literature, downscaling General Circulation Models over coral reef environments tend to lack important coastal complexities for climate projections. Jen has helped develop a unique method using a vertical 1-D physical-biogeochemical model to drive various 21st century climate change projections over the Great Barrier Reef (GBR). By calculating many 1-D individual profiles, the model accounts for key drivers of vertical mixing using local bathymetry, tides, and atmospheric inputs then outputting various water column properties such as surface and bottom temperature. These projections provide a more detailed analysis of the frequency and severity of warming events under different climate scenarios. Some key results have included the identification of potential climate refugia across a range of depths as well as quantifying the benefits of limiting warming to 1.5 °C.
A Yirrganydji man from the Cairns to Port Douglas region, Gavin is currently a Project Manager with the Dawul Wuru Aboriginal Corporation and coordinates the Yirrganydji Land and Sea Ranger Program and Yirrganydji Traditional Use of Marine Resources Agreement. Gavin's experience and contributions include representation on advisory committees such as the Great Barrier Reef Marine Park Authority's Indigenous Reef Advisory Committee, Reef 2050 Indigenous Heritage Expert Group, and Cairns Regional Council's First Peoples Advisory Committee. Gavin was a presenter/performer at the United Nations Climate Change Conference in Poland (2018), TEDx JCU Cairns (2018), and United Nations Oceans Conference SD-14 in New York (2017). Gavin has also featured in media networks and communication productions such as 'ABC the Drum', IUCN Video 'Voices from the Reef', Tangaroa Blue Foundation's video 'how to run a beach or river clean up', and the Queensland National Parks Video 'Be Pest Free'.
Hulton King is the Program Executive/Research Manager at Reef and Rainforest Research Centre (RRRC).With the RRRC, Hulton manages a portfolio of reef related projects and brokers events to bring stakeholders and research end users together to improve ongoing reef protection and action. The RRRC also works with PNG treaty villages in building their resilience, as well as ensuring research projects have appropriate Indigenous and community engagement plan for work on country.
Keep on the lookout for more events happening soon, including our monthly Yoga for Peace series on the Second saturday morning of every month (register here) and our next in-person event in focus on refugees and the UN's role in this global crisis (register here).
——————
As always, we at the UNAA respectfully acknowledge that this online event was hosted by individuals on the land of the Turrbal and Yuggera peoples, as well as watched by others from across the many Nations. We pay our respects to Elders past, present and emerging, and fully commit to working together now and in the future.