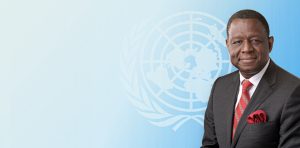 A senior United Nations figure who specialises in reproductive health issues has lamented the lack of global funds spent on women at an event in Canberra.
"Women don't matter," Babatunde Osotimehin concluded while talking about men spending far more money on issues that affect their gender. "Girls don't matter."
"And so we don't spend money on them."
Dr. Osotimehin is the Executive Director of the UN's Populations Fund (UNFPA) and Under-Secretary-General of the UN. He has spent more than 45 years addressing the issue of sexual and reproductive health and rights. On Monday 27 March he delivered a speech titled "Tackling Global Health" at an event organised by the Crawford School of Public Policy at the Australian National University.
Dr. Osotimehin told the gathering that family planning was "the most cost-effective humanitarian development in the world" because it had such positive implications for women's health and their futures as well as the environment.
He said reproductive health issues were central to the UN's Sustainable Development Goals which address women's health and rights. He called on all nations, including Australia, to implement all 17 of the SDGs for the benefit of the global community, including in his area of expertise.
The Under-Secretary-General also called on the audience to "push back" against right wing elements who oppose the work of the UNFPA and similar organisations and to not allow them to take "centre stage".
Dr. Osotimehin also praised Australia in its efforts to promote women's health and rights. He applauded Australia's stance at the recent "She decides" conference held in Brussels in early March.
"We were happy to see Australia's Ambassador for Women and Girls, Dr. Sharman Stone, who joined the chorus of voices in Brussels in speaking out in support of women's rights to decide over their own bodies," he said.
The senior UN official also said he had met on this trip to Australia the Foreign Minister, Julie Bishop, who had "reiterated Australia's position and strong support for the work we do."
You can listen to a podcast of Dr Osohitimen's speech at the ANU here:
https://soundcloud.com/anucrawford/tackling-global-health-by-dr-babatunde-osotimehin