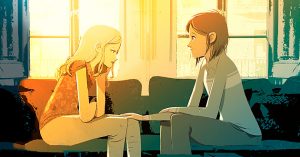 World Health Day, celebrated on 7 April every year, provides a unique opportunity to mobilise action around a specific health topic of concern to people all over the world.
The theme of the World Health Day 2017 campaign is 'Depression: Let's Talk'. A condition that affects people of all ages, from all walks of life, in all countries, depression impacts on people's ability to carry out everyday tasks, with consequences for families, friends, and even communities, workplaces, and health care systems. At worst, depression can lead to self-inflicted injury and suicide. A better understanding of depression, which can be prevented and treated, will help reduce the stigma associated with the illness, and lead to more people seeking help.
At the core of this years' campaign, is the importance of talking about depression as a vital component of recovery. The stigma surrounding mental illness, including depression, remains a barrier to people seeking help throughout the world. Talking about depression, whether with a family member, friend or medical professional; in larger groups, for example in schools, the workplace and social settings; or in the public domain (in the news, blogs or on social media), helps break down this stigma, ultimately leading to more people seeking help.
The overall goal is for more people suffering from depression to seek and receive help and to better inform the general public about depression, its causes and possible consequences and what help is available.
For those wanting to get involved, The World Health Organisation's website has more information and great resources including a campaign toolkit.
#Let'sTalk stats at a glance:
For someone living with depression, talking to a person they trust is often the first step towards treatment and recovery.
The cost of lost productivity in the workplace due to depression & anxiety: USD1 trillion per year.
On average, just 3% of government health budgets is invested in Mental Health
More than 300 million people around the world are now living with depression.
Suicide is the second leading cause of death among 15–29-year-olds.