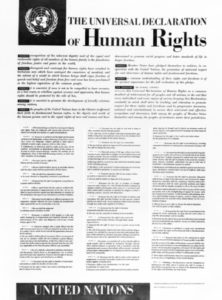 The Universal Declaration of Human Rights (UDHR) is a milestone document, which underpins all international human rights law and has helped countless people to gain greater freedom and security. It is the most translated document in the world, available in more than 500 languages.
"Over seven decades, this mighty document has helped to profoundly change our world," said Secretary-General António Guterres on Monday, at an event to commemorate Human Rights Day, observed annually on 10 December.
On Human Rights Day this year, the United Nations kicked off a year-long campaign in Paris to mark the upcoming 70th anniversary of the Universal Declaration of Human Rights in 2018.  The period leading up to 10 December 2018 will be "a year of intense and profound reflection on the continuing and vital importance of each and every one of the 30 articles contained in this extraordinary document," said UN High Commissioner for Human Rights Zeid Ra'ad Al Hussein.
The UN Human Rights Office also launched a new website that gives access to information about the UDHR and related actions and events. The website features a closer look at each of the 30 articles of the Declaration, as well as a section to download UDHR related materials, such as posters, the special commemorative logo, and banners.
Drafted by representatives with different legal and cultural backgrounds from all regions of the world, the UDHR was proclaimed by the United Nations General Assembly in Paris on 10 December 1948. It proclaims the inalienable rights of every human being regardless of race, colour, religion, sex, language, political or other opinions, national or social origin, property, birth or other status.
"While its promise is yet to be fulfilled, the very fact that it has stood the test of time is testament to the enduring universality of its perennial values of equality, justice, and human dignity." UN High Commissioner for Human Rights said.