The UNAAWA Education Reference Group oversees the following programs for WA schools: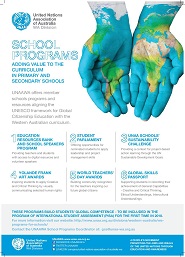 Click on this poster to expand it.


INTERNATIONAL RECOGNITION
During 2019, UNAAWA School Programs received recognition from two international organisations – the Global Challenges Foundation based in Stockholm and the Regional Centre of Expertise on Education for Sustainable Development (ESD) Hub based in Tokyo.
The 2019 EDUCATORS' CHALLENGE AWARD was presented to Anne and Rees Barrett in London in recognition of Reshaping Global Governance through Citizen Empowerment: A Replicable School Template – "contributing to the Global Challenges Foundation ongoing mission to facilitate the necessary changes to the global governance system in order to mitigate global catastrophic risks.
Click here for the Replicable School Template booklet prepared in support of the entry.
Click here for the UNAAWA Newsletter article on the Award.
Click here for the Powerpoint presented in London, on 15 May 2019.
The 2019 OUTSTANDING FLAGSHIP PROJECT AWARD for Innovative Projects in ESD was presented to Rees Barrett on behalf of the Regional Centre of Expertise on ESD in Western Australia for its contribution to Sustainable Development Goal 4: Quality Education.
Click here for the entry Global Goals Challenge: Showcasing Effective Curricular and Extracurricular Practice Mainstreaming ESD in Schools
_________________________________________________________________________
SDG EVENTS FOR SCHOOLS 
UNAAWA School Programs volunteers participate in Education for Sustainable Development (ESD) events in schools. During 2019, these included:
The International Day of Peace celebration
Everyday Leaders Thrive event, Perth Convention Centre
Mindarie Senior College Sustainability Expo
Lynwood Senior High School Sustainability Expo
Meerilinga Children's Week Family Fun Day
INTERNATIONAL DAY OF PEACE celebration
EVERYDAY LEADERS THRIVE event
SCHOOL SUSTAINABILITY EXPO stands
MEERILINGA CHILDREN'S WEEK FAMILY FUN DAY
________________________________________________________________________
VOICE OF YOUTH PARTNERSHIPS
We are proud to partner diverse organisations supporting Global Citizenship Education. These partners all encourage our community to value the voice of youth and empowerment of our future global citizens. They support UNAAWA School Programs by promoting our work through their networks.
HASS Council WA
Regional Centre of Expertise on ESD Western Australia