"We must foster Global Citizenship. Education is about more than literacy and numeracy. It is also about citizenry. Education must fully assume its essential role in helping people to forge more just, peaceful and tolerant societies."
—  Ban Ki-Moon, UN Secretary-General, 26 September 2014
UNAA Global Citizenship Schools is a program overseen by the UNAAWA Education Reference Group (ERG).
Why Belong?
Belonging to the network of UNAA Global Citizenship Schools increases awareness of the latest global developments and the role of the United Nations. Member schools belong to WFUNA – a worldwide network of like-minded people focused on global citizenship and the UN.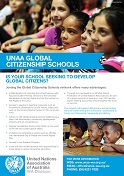 Who Belongs?
Primary and secondary school members of the network are committed to educating future global citizens who understand the ideals of the United Nations and support its work. Global citizenship education through UNAAWA enhances students' understanding of social justice, environmental and community development issues; and their roles in building local, national and international cohesion.
How Do We Join?
If your school would like to join the network, apply here. Alternately, if an invoice is required email the request to gcs@unaa-wa.org.au
Curriculum Support
Global Citizenship Schools add value to their curriculum through support focused on the socio-emotional and behavioural domains of learning. This support is available through digital resources, speakers, extracurricular programs and the WACE-endorsed Global Citizenship and Sustainability program.
UNAA Events
Members of the UNAA Global Citizenship Schools network are invited to participate in UNAA events. These include forums on current events and issues as well as events commemorating UN Observances.
Click here for details of coming events.
Newsletters
Contact teachers for member schools receive regular newsletters from WFUNA, UNAA, UNAAWA (UN Matters) and the GCS Newsletter.
UN Competitions and Projects
The ERG runs the Yolande Frank Art Awards.
UNAA Victoria runs the World Environment Day Awards.
UN Youth runs the annual Evatt Competition.
The Clean Up the World Weekend is held in conjunction with UNEP.
Education Resources Bank
Member schools can access school, student and teacher resources linked to the Western Australian curriculum and designed to increase student understanding of complex global development issues.
Click here for further information on this program.
Additional Education Resources
Information and resources are also available through the United Nations Information Centre in Canberra.